Uncover a Secret Garden, Cloud Forest and Holograms in the Garden City
UNCOVER A SECRET GARDEN, CLOUD FOREST AND HOLOGRAMS IN THE GARDEN CITY
In the 1970s, Singapore's "bay" did not even exist. Today, reclaimed land stretches across the southern tip of this tiny island, nicknamed Little Red Dot, and resolutely defines the "can do" spirit of its people. Ground triumphed over water and on this patch of land emerged the city's most ambitious project – Marina Bay.
The area has numerous iconic buildings and attractions pushing architectural boundaries, combining dramatic curves and geometric patterns with open and green spaces. These include the lotus-inspired ArtScience Museum. The museum stands alongside architecturally distinctive structures, including Esplanade – Theatres on the Bay with its twin shells, the DNA-inspired Helix Bridge as well as commercial behemoths such as the Marina Bay Financial Centre Singapore's largest green space, Gardens by the Bay, stands grandly nearby. A 101ha man-made marvel, the multi-winning vertical gardens merges architecture, engineering and horticulture seamlessly.
COOL WORLDS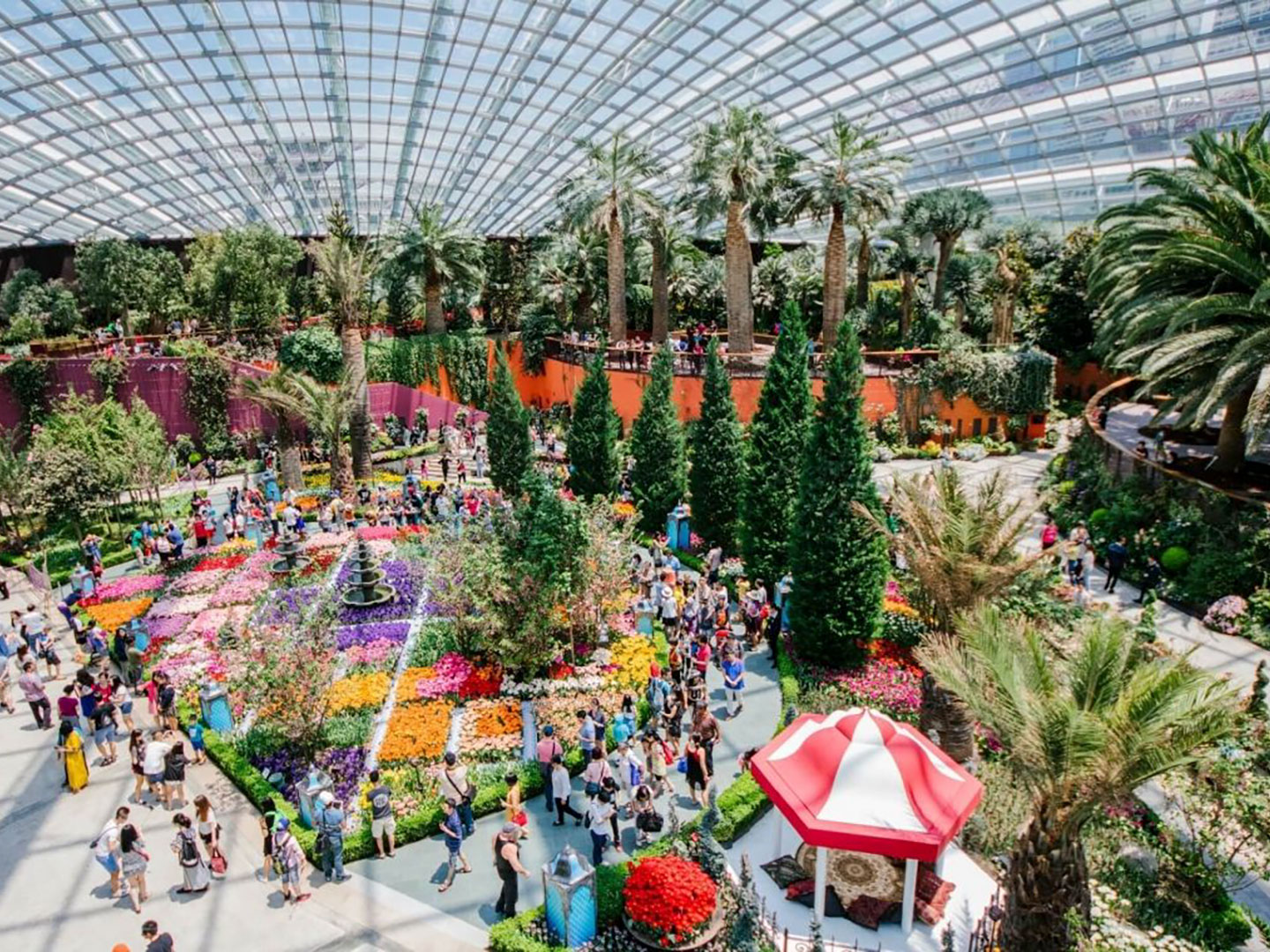 With Gardens by the Bay, Singapore is no longer a city lined only with tropical raintrees and bougainvillea bushes. Immerse yourself in Heritage Gardens Start your visit at the Flower Dome and Cloud Forest – two stunning cooled conservatories that sustain a whole new world of plants not designed for Singapore's hot and humid climate.
Step into a floral fantasy at the 1.2ha Flower Dome – the larger of the two – and step into a Mediterranean and semi-arid tropical climate. It's not just cacti here though. Marvel at olive trees, date palms and baobabs with their thick, water-storing trunks. Meanwhile, the central Flower Field features changing displays of blooms that evolve with the seasons.
The 0.8ha Cloud Forest is all about the plant ife, where nine exciting exhibit features await. Within this 58m-tall dome, a temperate climate found between 1,000m and 3,500m above sea level, allows more than 137,000 delicate ferns, carnivorous pitcher plants and moisture-loving varieties like orchids to flourish.
The best way to enjoy the Cloud Forest is to, well, start among the clouds – head for the Lost World on Level 7. Soak in the mysterious dreamscape before starting your descent on the 122m Cloud Walk, where the ever-present mist adds to the ethereal atmosphere. Be sure to stop by Waterfall View for a midway close-up look at the magnificent 35m waterfall in action. End your journey at the Secret Garden in the basement, home to more than 7,000 endangered or near extinct plants, and over 135 species and hybrids that are in limestone forests and caves.
Step into the Cloud Forest Gallery to interact with a hologram feature in an exhibition titled "sixth extinction", which addresses the effects of our actions on the environment.
Make time to also visit the Supertree Grove which dominates the Bay South Garden and beyond. These 12 "supertrees", each measuring 25 to 50m, are tree-like, man-made structures that are in fact futuristic-looking vertical gardens with over 200 varieties of bromeliads, orchids, ferns and tropical flowering climbers. These ultra-cool structures also harvest solar energy and come alive with a music and light show at 7.45pm and 8.45pm daily. For a taste of the "high" life, stroll 22m above ground along the 128m aerial OCBC Skyway for a breathtaking view of the Marina Bay precinct.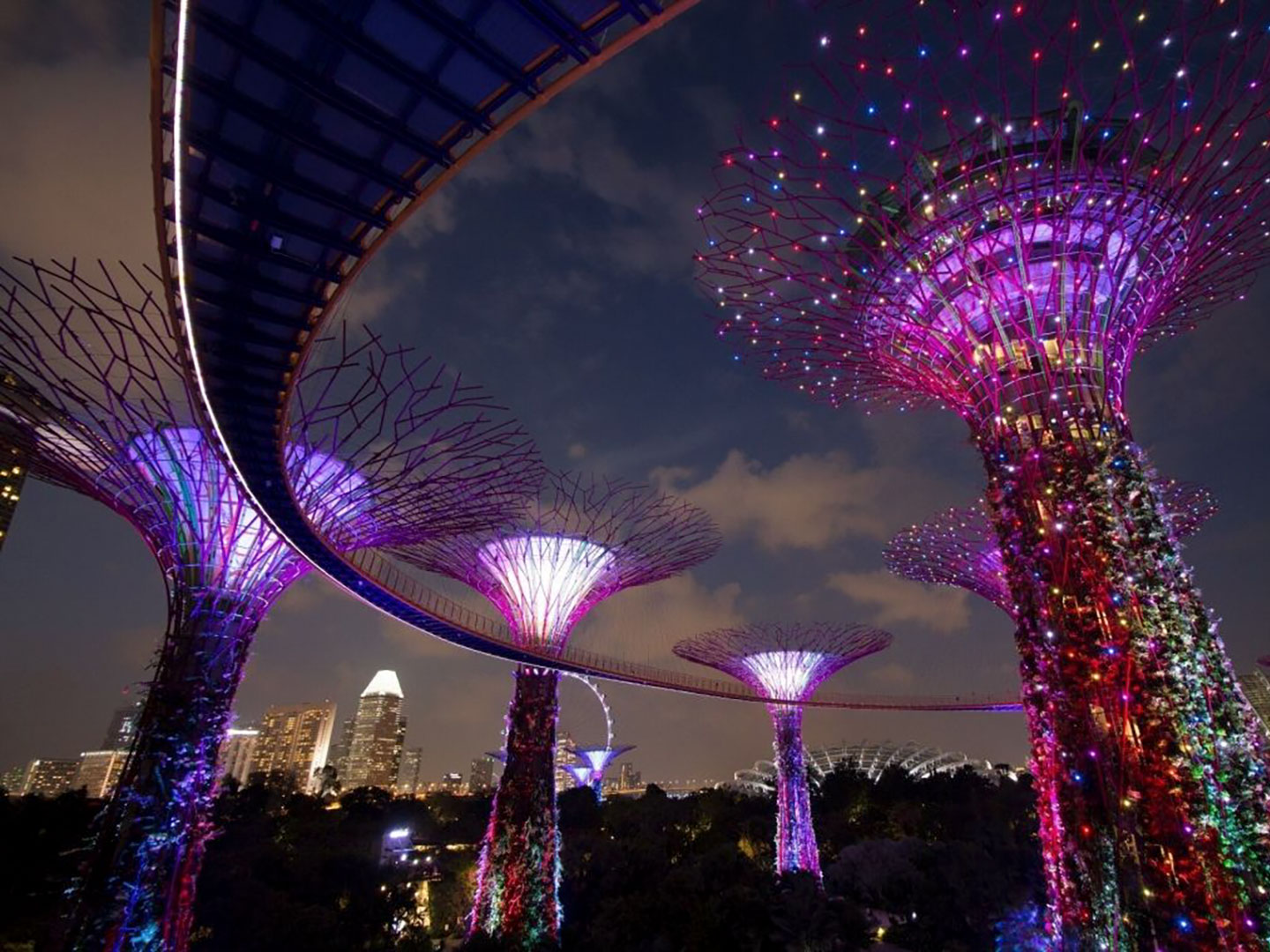 Cafés and Dining
Mylo's
Relax over a cuppa with a variety of pasties or and gelato flavours while taking in beautiful garden views.
Website | Tel: (+65) 6970 8553
Hopscotch
Discover Singaporean-themed artisanal cocktails and delectable Singaporean fusion fare here as you unwind till late in the evening.
Website | Tel: (+65) 6539 9653
Jurassic Nest Food Hall
Enjoy Michelin-rated cuisines in the company of larger-than-life dinosaurs, perfect for the little ones to dine while exploring prehistoric floral and fauna.
Website
Satay by the Bay
Indulge in hawker favourites at this food court inspired by the old Satay Club at the Esplanade.
Website
Photo credits (Top to bottom): Singapore Tourism Board, Gardens by the Bay, Helmut Ignat, Gardens by the Bay
Travelling time from our hotels in Singapore to Gardens by the Bay:
Grand Park City Hall - 10 minutes' drive
For more attractions in Singapore and local treasures, uncover the heritage streets of Kampong Gelam and Little India.
---
Other Articles you may like