Top 5 Things To Do in Singapore's Civic District
This post was first published on 23 May 2018.
Against an impressive scenic Singapore skyline, the city state's Civic District pulsates with passion and stories to be discovered – of national history, art & culture, nature and technology, and much more.
Read on to uncover unique stellar experiences that you won't want to miss out on the next time you're in the 'hood.
Already tempted to visit Singapore and track down the locations where 'Crazy Rich Asians' was filmed? Find out more.
1. FIND YOUR MUSE
Take your pick from over eight museums that showcase various aspects of Singapore.
National Museum of Singapore
From its humble origins as a tropical rainforest island, to its founding and early days, the National Museum of Singapore has highlights the struggles of Singapore society as well as celebrates the successes and achievement the country has come to enjoy. Also central is the focus on the multicultural, multiracial and multireligious social fabric of Singapore.
Art Science Museum
Southeast Asia's leading institution is home to 21 galleries spread across 50,000 square feet. The iconic lotus-inspired building has staged major exhibitions that explore the interrelationship between culture and technology, art and science. Notable exhibits include those of Leonardo Da Vinci, Salvatore Dalí, Andy Warhol and Vincent Van Gogh, as well as the upcoming cinematic tribute Marvel Studios: Ten Years of Heroes exhibition and Theo Jansen's world-famous moving sculptures -The Strandbeests.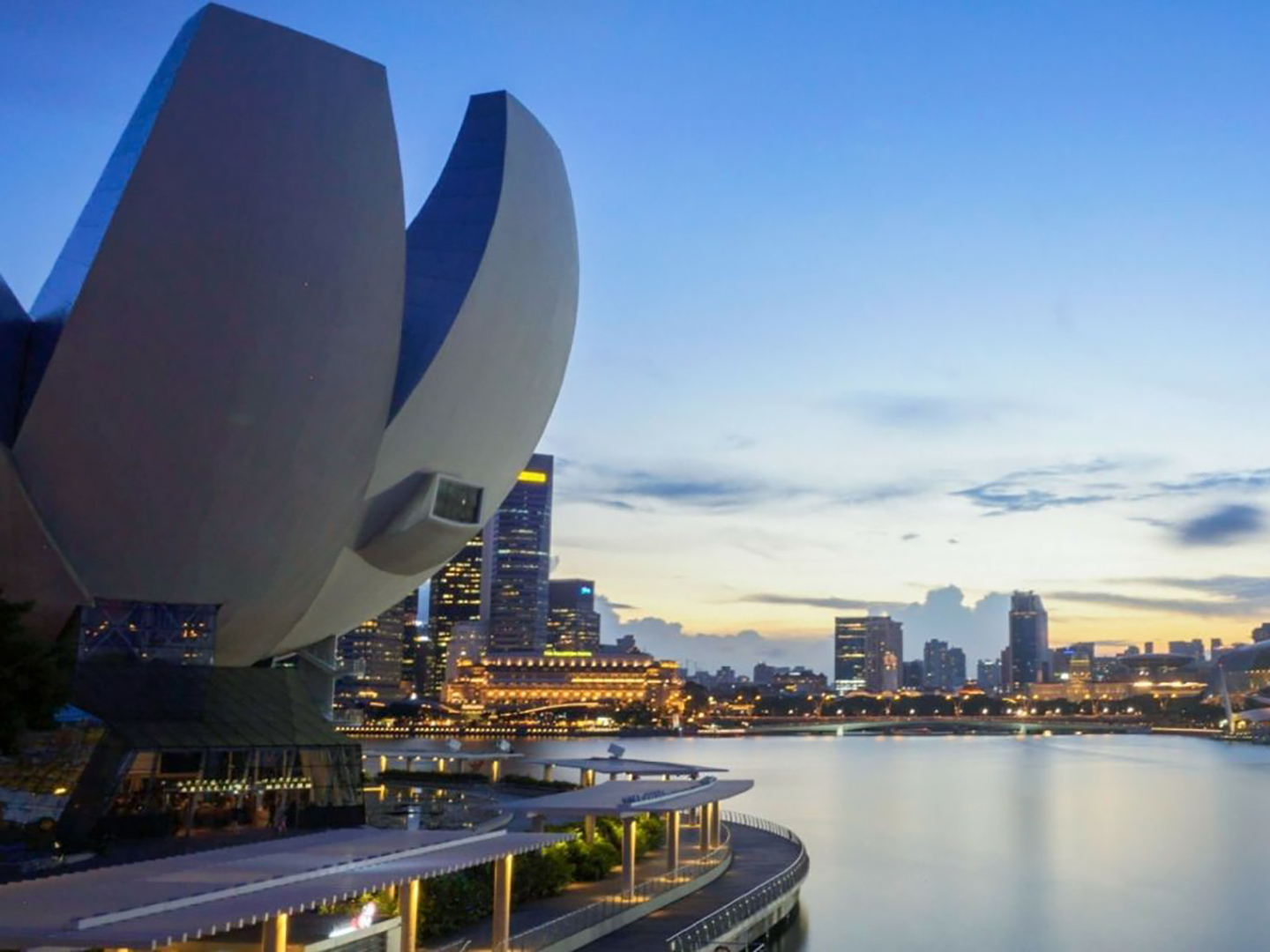 National Gallery Singapore
Housed in two national monuments – City Hall and the former Supreme Court – the National Gallery Singapore oversees Southeast Asia's largest public collection of modern art in its long-term and special exhibitions it stages. The Gallery also partners international museums to give voice to Southeast Asian art in a global setting. Additionally, a children's gallery over at the Keppel Centre for Art Education within The Gallery, and family programmes designed in consultation with art practitioners will stimulate the imagination of young minds and ignite creativity and appreciation for visual arts. Head to Yàn located at the fifth level, for authentic Cantonese cuisine that pleases easily. With focused dedication to provenance and refined techniques, the restaurant presents a well-crafted menu amidst an elegant contemporary ambience.
2. TRAILS OF PLEASURE
Discover a different perspective of the country's history through art when you embark on the Civic District Art Trail. Guide yourself around art installations that tell the Singapore story. From prominent historical figures such as Sir Stamford Raffles, modern Singapore's founder, located outside Victoria Theatre, to 21st century architectural icons. Admire the works of some of Singapore's pioneering sculptors, as well as modern pieces by artists from around the globe. These include the sculptures 20 Tonnes by Singaporean sculptor Han Sai Por, just in front of the National Museum of Singapore. Also located on the same grounds is Let There Be Peace (2005), a 3-metre-tall bronze United Nations Peace Monument for Asia created by Alexandra Nechita from Romania. Many other sculptures can also be found along the Singapore River too, depicting the commercial and kampung spirit of yesteryears such as From Chettairs to Financiers and The First Generation.
3. WORK, PLAY, EAT
Work and play can co-exist in the Central Business District (CBD) just a five-minute ride away. Numerous open spaces and arcades encourage social gatherings while top notch restaurants and bars proudly delight discerning palates while providing the ideal environment for business discussions and networking. Linger a little longer after the sun sets in the Tanjong Pagar, Telok Ayer or Amoy zones and discover a gamut of gourmet finds tucked high up in one of the many skyscrapers, amidst bustling Maxwell Food Centre or Amoy Street Food Centre or are only accessible via back lane or hidden fronts.
Burger Joint
Definitely for burger aficionados. Look out for a simple Burger neon sign to gain entrance to this hard to find gem of a place. The burgers here are made with Nebraskan beef patties, with just the right amount of seasoning for the quintessential American burger experience.
Maxwell Food Centre
Tucked into the thick of local hawker surrounds, Lad & Dad stands out with its British comfort offering. From Bangers & Mash to Bacon & Chip Butty, the young owner and his dad cooks and serves hearty meals from the heart. Swing by The Hangar Coffee Express for a cuppa of gourmet coffee or savour authentic Eurasian and Peranakan cuisine at Popo and Nana's. With a rotating menu of signatures such as Ayam Buah Keluak and Devil's Curry, be sure to be early at meal periods to avoid the unfortune 'sold out' tags.
Amoy Street Food Centre
When in Singapore, just queue. This could not be a truer endorsement of good food, at least in the context Singapore's vibrant street food scene. Join the snaking queues for Han Kee Fish Soup, freshly cooked to order with the freshest catch of the day. Or indulge in Michelin Bib Gourmand Beef Noodles by Hong Kee Beef Noodle which has over fifty years of history.
4. WELLNESS ON THE ROAD
Literally. Run along the scenic Marina Bay, especially at dusk or when night falls, for a breath-takingly surreal experience that is absolutely motivating. Take in the sight and sounds along the Esplanade by the Bay which features live performances by the river on most evenings.
Recommended route: Begin at the Marina Barrage, Singapore's 15th reservoir, and the first in the heart of the city. Then head towards Marina Bay Sands, Clifford Pier, The Fullerton Hotel, Esplanade – Theatres on the Bay, the Floating platform just beside before hitting the Helix Bridge, and back towards the Marina Barrage.
Alternatively, drop in a fitness centre readily available at every other corner to get your adrenalin pumping. Virgin Active has three fitness clubs located within the CBD, just a five-minute ride away.
5. STARS OF THE NIGHT
Whoever said Singapore had no night scene was just plain ignorant. The island is in fact home to some of Asia's top bars and night spots with progressive experiences to boot.
Smoke & Mirrors
Perched atop the National Gallery Singapore and overlooking the vast green field of the padang with Marina Bay Sands looming in the background, the innovative cocktails have been featured at the Singapore Cocktail Festival consecutively. They also host guest bartenders from other top bars in Asia which creates even more excitement in the Singapore bar scene.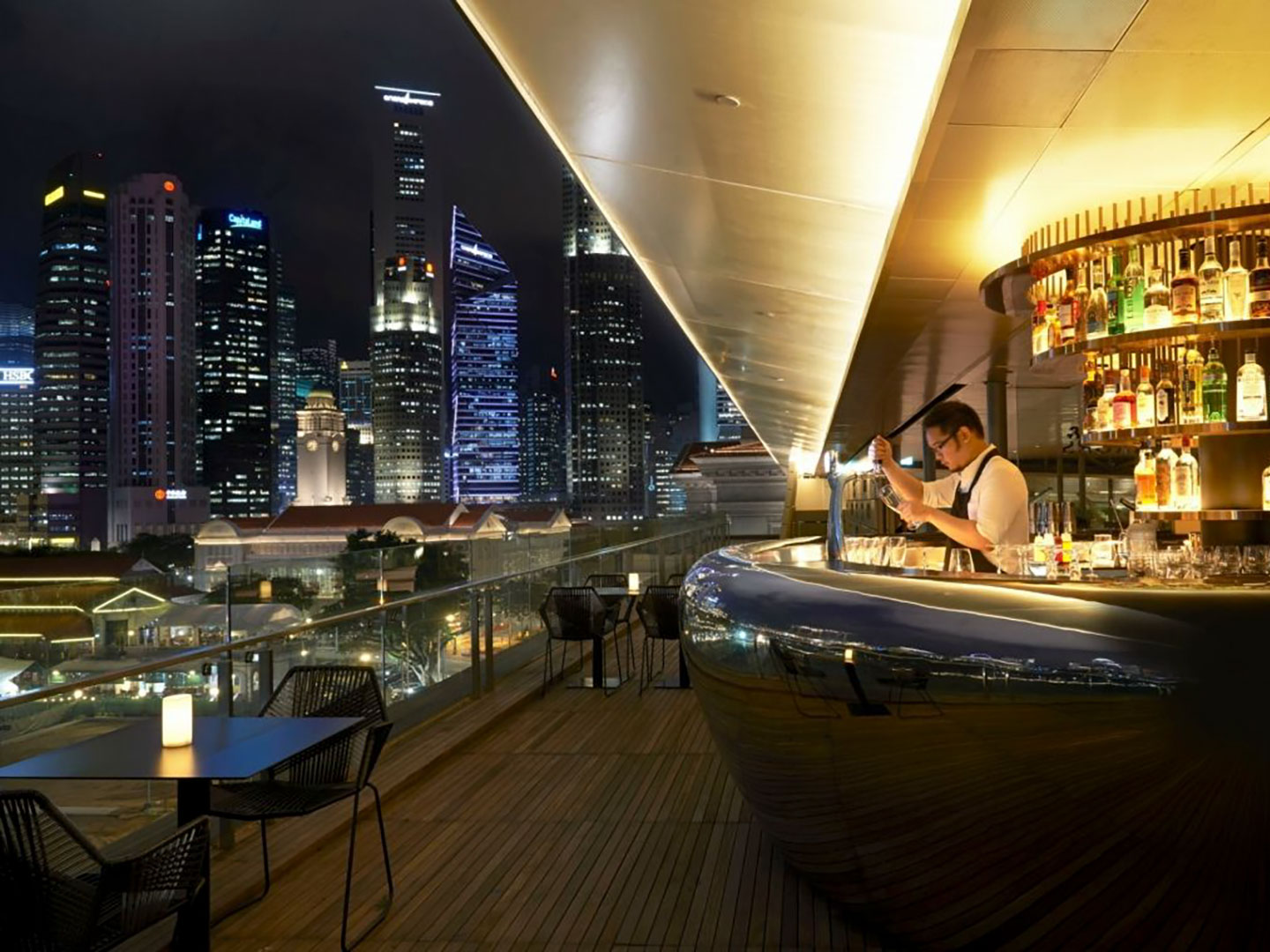 Clarke Quay
Brightly lit in gawdy psychedelic fashion, Clarke Quay wields its charm with a vast array of restaurants and bars and perfectly Instagram-able setting. Savour fresh seafood prepared in a variety of ways at popular seafood chain restaurants; indulge in a piping hot bowl of Japanese ramen tonkatsu broth; opt for freshly brewed beers and well-made Mexican fare, the choices are mind-boggling, as is the experience on-board the junk boats that ply the river, ever ready to share the Singapore River story.
To get more out of the Civic District, we recommend spending a few nights at the Grand Park City Hall, conveniently located just behind the National Gallery Singapore, and minutes from City Hall train station. Freshly refurbished, guests can look forward to a highly personalized stay and seamless checking in and out with the use of the hotel's mobile application.
Experience Grand Park City Hall yourself.
WHERE TO STAY
Grand Park City Hall
10 Coleman Street, South, Singapore 179809, p. (65) 6336 3456, e. info.gpch@parkhotelgroup.com
5 minutes' walk to National Gallery Singapore
5 minutes' drive to Central Business District
10 minutes' walk to National Museum Singapore and Peranakan Museum
10 minutes' drive to Marina Barrage and Gardens by the Bay
WHERE TO GO
Art Science Museum
6 Bayfront Ave, Singapore 018974, p. (65) 6688 8826
National Gallery Singapore
1 St Andrew's Rd, Singapore 178957, p. (65) 6271 7000, e. info@nationalgallery.sg
National Museum of Singapore
93 Stamford Road, 178897, p. (65) 6332 3659, e. nhb_nm_hospitality@nhb.gov.sg
Peranakan Museum
39 Armenian St, Singapore 179941, p. (65) 6332 7591, e. nhb_pm_vs@nhb.gov.sg
Burger Joint
#01-03, 115 Amoy Street, 069935, p. (65) 6221 8648
Lad & Dad
Maxwell Food Centre Stall 79, 1 Kadayanallur Street, Singapore, 069184, p. (65) 9247 7385
The Hangar Coffee Express
1 Kadayanallur Street, #01-33, Singapore, 069184
Han Kee Fish Soup
7 Maxwell Rd, Singapore 069111
Hong Kee Beef Noodles
7 Maxwell Rd, #01-42 Amoy Street Food Centre, Singapore 069111
Marina Barrage
8 Marina Gardens Drive, Singapore 018951, p. (65) 6514 5959, e. PUB_MarinaBarrage@pub.gov.sg
Esplanade – Theatres on the Bay
1 Esplanade Dr, Singapore 038981, p. (65) 6828 8377
Virgin Active Raffles Place
Level 6, Tower 2, One Raffles Place, Singapore 048616, p. (65) 6908 7878
Smoke & Mirrors
1 St. Andrew's Road, #06-01 National Gallery Singapore, 178957, p. (65) 9234 8122, e. reserve@smokeandmirrors.com.sg

Clarke Quay
3 River Valley Rd, Singapore 179024, p. (65) 6337 3292, e. retail@capitaland.com
Yàn
1 Saint Andrew's Road, #05-02 National Gallery Singapore, 178957, p. (65) 6384 5585, e. reserve@yan.com.sg
Fascinated by what Singapore has to offer? That's not all! Uncover a secret garden, cloud forest and holograms in the garden city.
Photo credits (Top to bottom): donkuok, Afrian Mahardika, Singapore Tourism Board, Christian H, Smoke & Mirrors
---
Other Articles you may like