Portal to the Past
PORTAL TO THE PAST
For a glimpse into old Wuxi, go on a journey through Huishan Old Town, described as the city's open-air museum.
China's sleek bullet train streaks through the outskirts of Wuxi at 350km/h. Blurred by speed, the rows of residential blocks and glassy commercial towers that the train passes appear to be sprouting in unison across the landscape. As we near the centre, the downtown skyline appears to be extended by a handful of skyscrapers – some more than 300m high.
By Chinese standards, Wuxi is a relatively small city of over six million. A hub of industry in eastern Jiangsu province, its strategic location straddling the Grand Canal and closeness to Shanghai and Suzhou has historically contributed to its prosperity. Now experiencing a renewed vigour, Wuxi is the centre of China's booming solar-technology industry and a stop on the busy high-speed-rail corridor linking the provincial capital of Nanjing to Shanghai. It takes around 45 minutes from Wuxi to Shanghai as well as to Nanjing, and trains depart from Wuxi's railway station at 10-minute intervals.
Amid such striving modernism, it is easy to forget that Wuxi is an ancient city. Its history can be traced back to the Neolithic Age, some 4,000 years ago. The construction of the Grand Canal in the sixth century, which flows right through the city, further established Wuxi as a cradle of industry, trade and culture.
Huishan Old Town, one of the famed Wuxi attractions, lies just 10-minutes by taxi to the west of the modern city centre, and is a well-preserved time capsule of Wuxi's past. Its location at the foot of Mount Hui (Huishan) and Mount Xi (Xishan) blesses it with ideal fengshui elements according to traditional beliefs – it is easy to see why ancient folk chose this idyllic spot. Perched on a hilltop above the town, the 32m-tall octagonal Longguang Pagoda in Xihui Park is an iconic symbol of old Wuxi city.
The historic enclave measures just 1 sq km, but offers spectacular gardens, temples and atmospheric lanes. It is also home to 118 ancestral halls built over the centuries to honour family ancestors and historical figures. Around 80 different Chinese family surnames are represented, making it a popular pilgrimage site for Chinese travellers.
Entrance to the ancient town is through a large park filled with plum blossoms and lotus lakes. It is a treasured community gathering place – a group of women huddle in a pagoda singing folk songs, a few old men take to kite-flying and young couples manoeuvre swan-shaped paddle boats. Few, however, are brave enough to ride the antique-looking cable cars – with their semi-open cabins – that scale the wooded mountainsides.
The main attraction lies across Yingshan Lake in the far west of the park. Stepping into the cobbled square of the ancient town is surreal. Like entering a time warp, the white-patina walls and black flying-eave rooflines enclose you and the bustle of Chinese tourists could easily be Ming dynasty townsfolk gathered to watch a street performance on the magnificent two-storey Town Stage facing the square.
An arched doorway opposite leads to Xihui Park's most beautiful gardens; as splendid as the famed gardens of nearby Suzhou. One of the most impressive is Jichang Garden dating from the Ming Dynasty. Inside, stonewalls enclose large reflective ponds, zigzag bridges and ornate pavilion roofs with dragon carvings. Elaborate rockeries carved into tunnelled caves and winding ravines, make for fun wandering. Emperor Qianlong of the Qing Dynasty loved the design of the garden so much, he had a replica built in Beijing's Summer Palace.
Jichang's elegance gives way to the enchanting, steep-set gardens surrounding Erquan Pavilion and Tian Xia Di Er Quan (second spring under heaven) – a freshwater spring that trickles through pretty rivulets, rockeries and ponds, and spurts out the mouth of a stone dragon.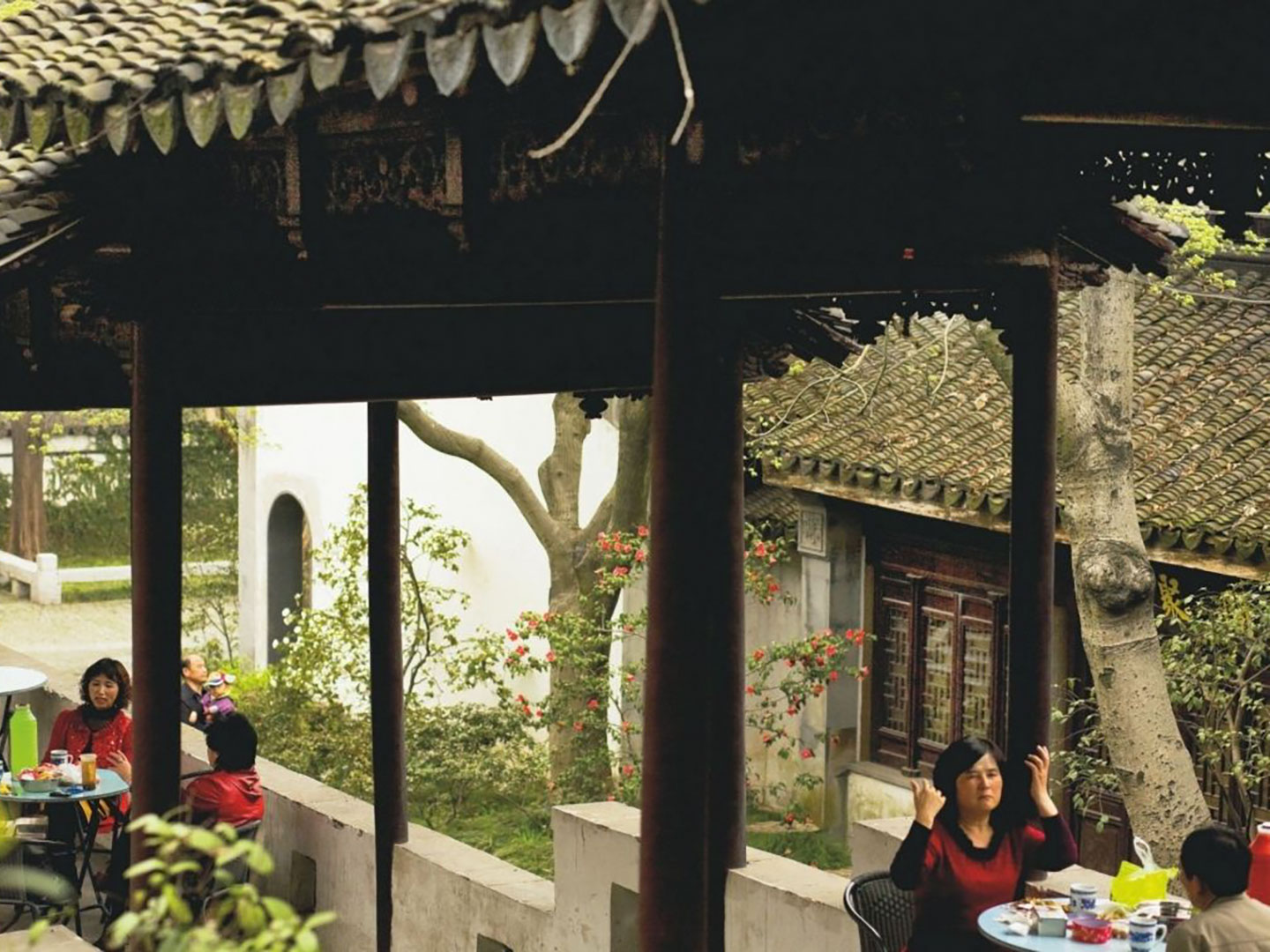 Lu Yu, a tea expert in the Tang Dynasty (618-907 AD), once declared that this was the second-best spring water in China for making tea (the first is at Mount Lu in Jiangxi province). This prompted emperors, poets and tea aficionados to visit the spring, and they were often inspired to leave odes inscribed on the garden walls. After exploring the many sunlit grottoes, where you will invariably find a local resident practising tai chi, you might want to take a break in one of the picturesque pavilion teahouses and try a Huishan brew for yourself.
Next door, separated by a wall shaped like the rippling movement of a dragon, the 1,500-year-old Huishan Temple is Wuxi's oldest. Incense plumes and the soothing chants of monks make for atmospheric wandering.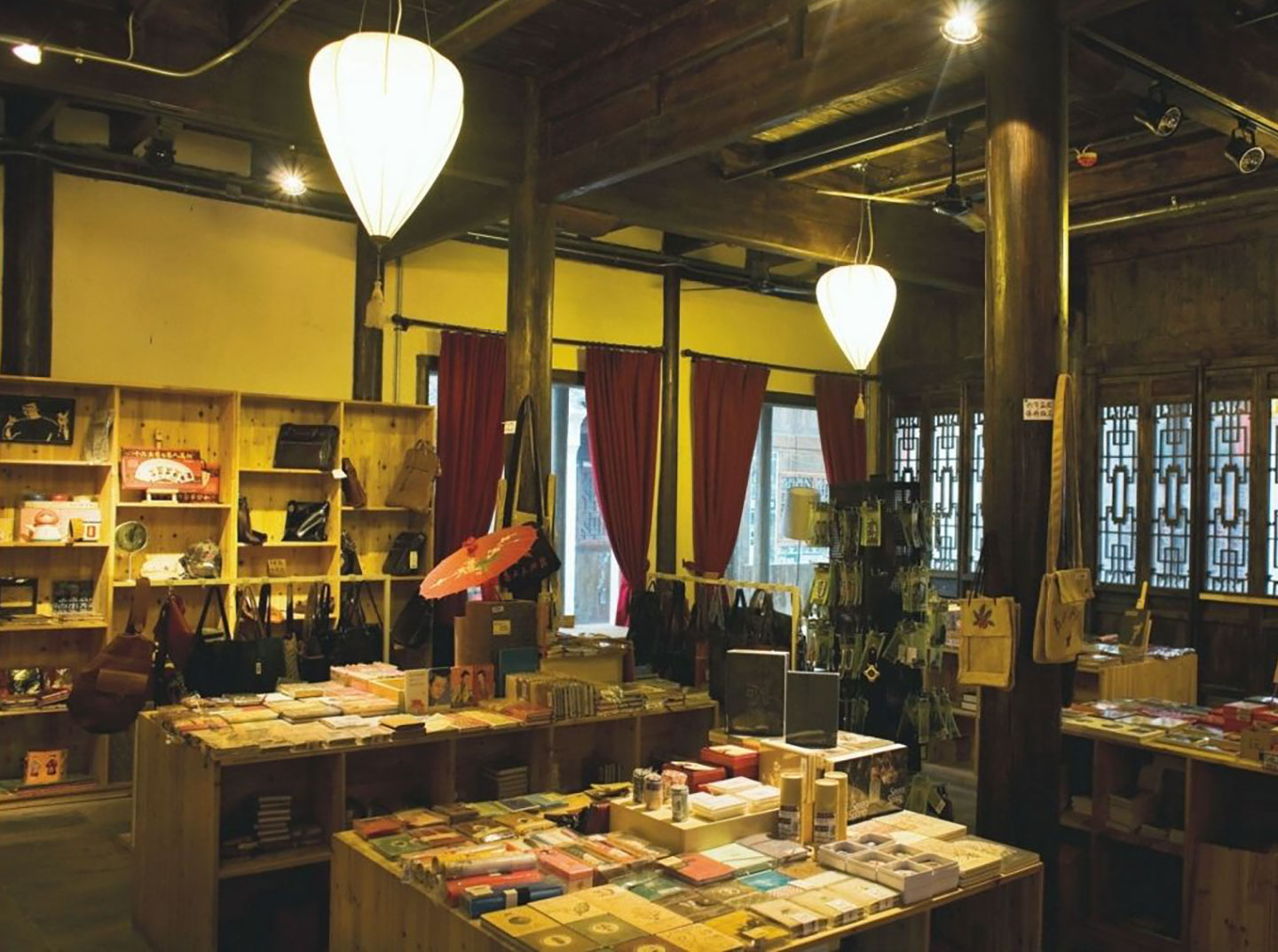 Back at the arched pavilion entrance, cobbled lanes lined with whitewashed village houses and more ancestral halls radiate off the main square. Tucked behind carved-wood screens are intriguing finds, like Xian Feng bookstore – a hip little store connected to a coffee shop – and craftsmen's studios selling brightly painted Huishan clay figurines. A string of cosy bars line Huishan Canal, which flows into the nearby Grand Canal. And for a taste of Wuxi's cuisine – often described as "sweet" – Lao Cai Guan just off the main square is set in a lantern-strung house with intricately carved windows and private rooms overlooking an inner courtyard. Be sure to try Wuxi's signature dish of spareribs braised in rice wine and soya sauce, spiced with ginger, anise, cloves and black peppercorns.
Lao Cai Guan also brews its own Huiquan yellow wine. Made from Huishan spring water and local glutinous rice, the sweet liquor was declared an Imperial wine in the Qing Dynasty and was a tipple of choice in the aristocratic homesteads featured in the famous Chinese novel, Dream of the Red Chamber. It comes in glazed pottery jars tied with batik-print fabric and makes a delightful souvenir from a part of Wuxi city, China, where time stands gloriously still.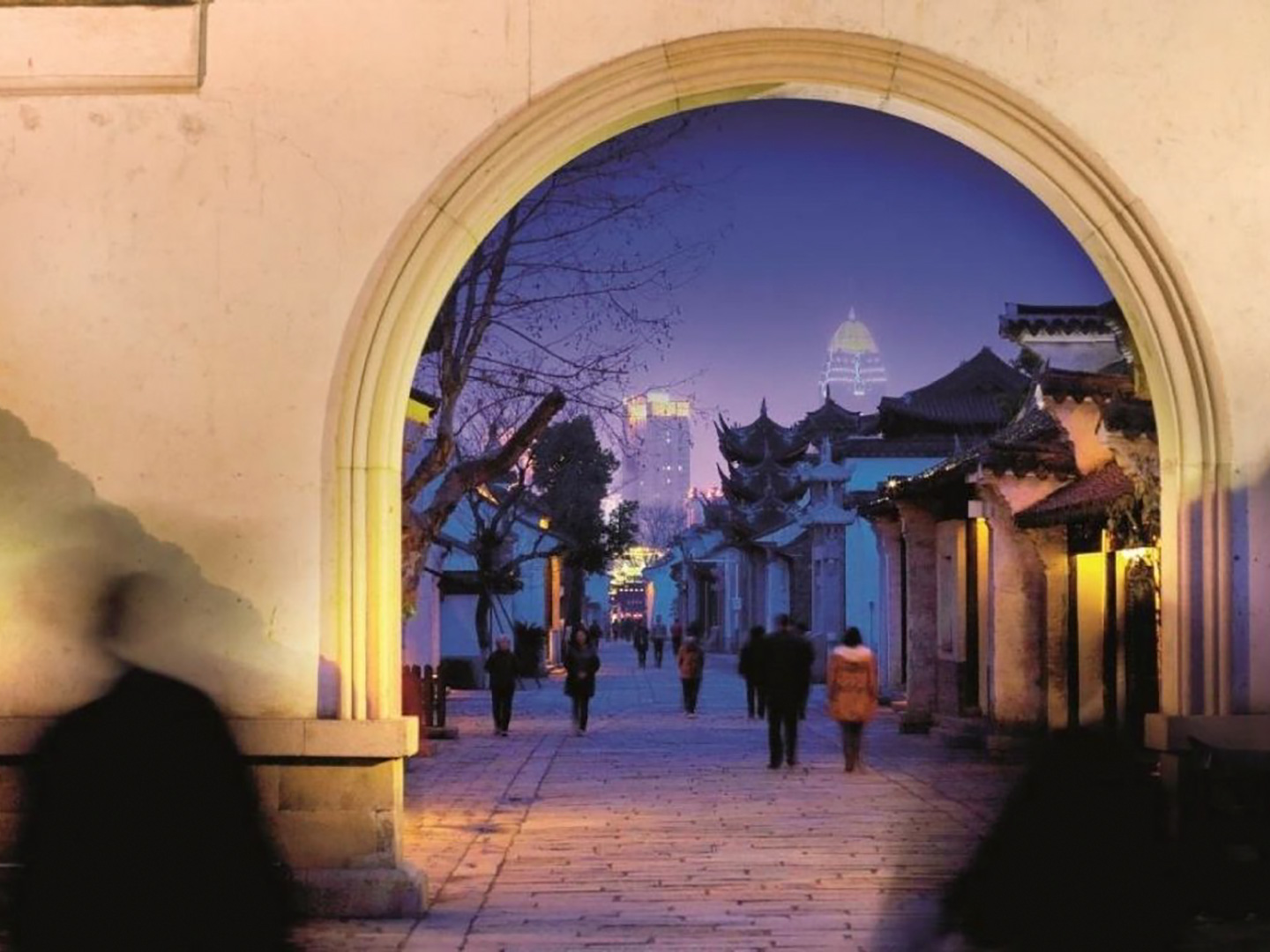 VISITOR INFORMATION
GETTING THERE
Huishan Old Town
Situated west of Wuxi, Huishan Old Town is about 10 to 15 minutes by taxi from Wuxi Railway Station, or 20 minutes by taxi from Grand Park Wuxi.
Entrance to all sites in Huishan Old Town costs RMB70.
Xian Feng Bookstore
9 Xiuzhang Street
Tel: +86 510 8370 2691
A quaint curio and coffeehouse set in an ancient residence with a sun-dappled courtyard.
Lao Cai Guan
Tel: +86 510 8358 1177
Popular restaurant with intricately carved windows and private rooms serving Wuxi's sweetly seasoned cuisine and home-brewed local Huiquan yellow wine.
Photo credits: BRAD WESTPHAL
---
Other Articles you may like