6 Things to Know Before Deciding Your Perfect Maldives Resort
We are so glad you are visiting the Maldives, the Land of Sun, Sea and Sand. Indeed, the beauty of Maldives is beyond words. Its pristine beaches, Finding Nemo reefs, crystal clear blue lagoons are so Instagram-worthy they have captured the heart of many visitors.
While it continues to be the world's hottest holiday destination, homework is required to get the most out of the Maldives. First thing first: Which Maldives Resort is best for you? Which Maldives Island is best for a honeymoon? Is the Maldives Hotel suitable for your family? There are a thousand of islands in the Maldives, and each resort offers a different experience depending on their targeted customer segments. So what are the things you should consider when deciding your Maldives resort? What does "Maldives All Inclusive"means? Here are 6 important travel tips and our recommendations for selecting the best Maldives resort.
1. Cost & Budget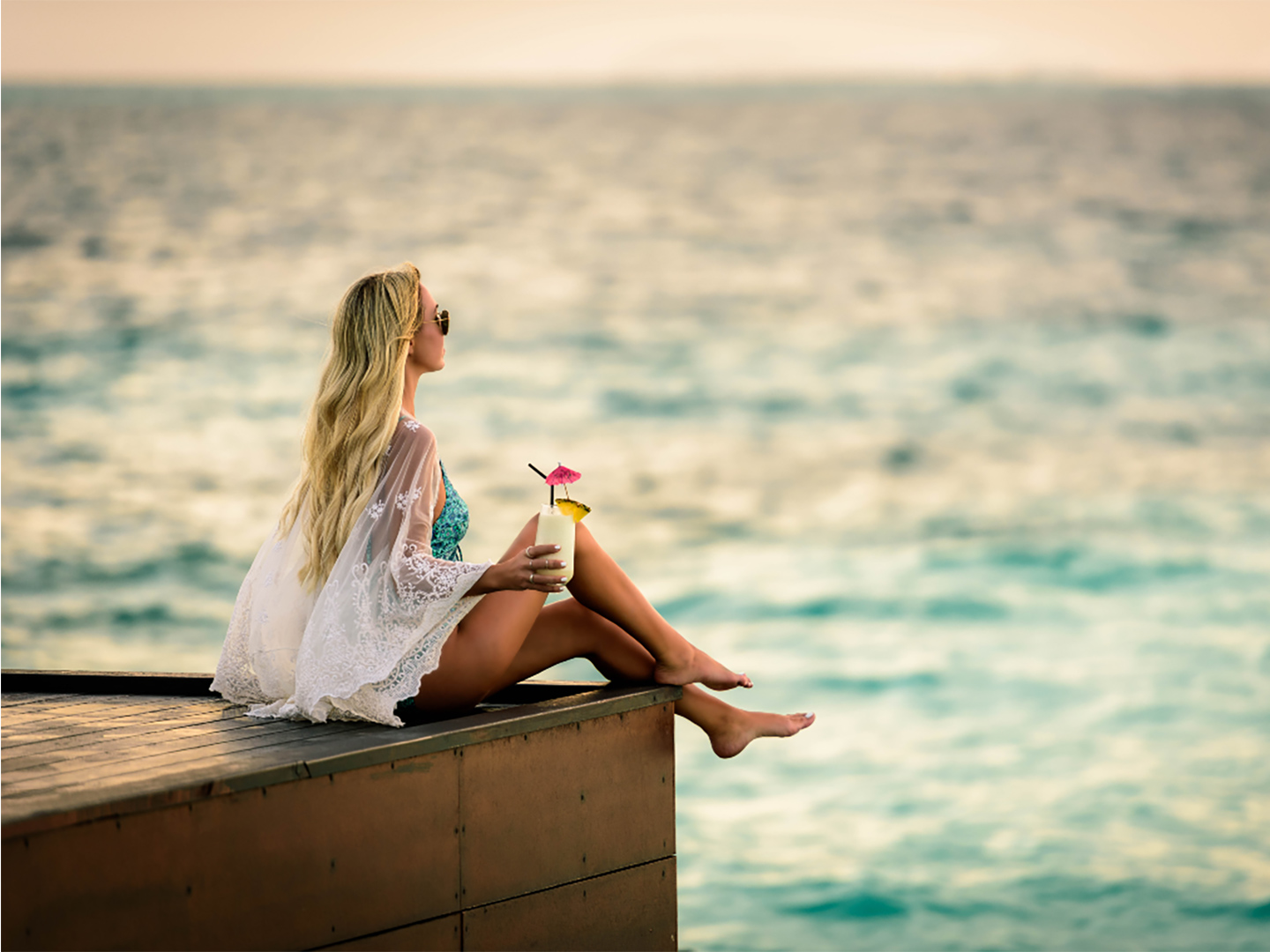 It's a realistic question. Are you on a budget or planning to go all out to splurge? It is good to understand the extra costs that may occur during the trip. On top of your accommodation, flight tickets and transit, the spendings on food, drinks, spa, water sports and other activities in the resort can be substantial. As island hopping is not a common practise in the Maldives, you have to arrange a private boat trip to transport you from point to point. Visitors would stay and dine in their chosen resort throughout the entire trip.
It is also good to know that all Maldives resorts would charge at least a 22% of service charges/ taxes to every bill. Some Maldives resort offers an early bird discount. Book early and enjoy our special Advance Purchase rates online.
2. Island Features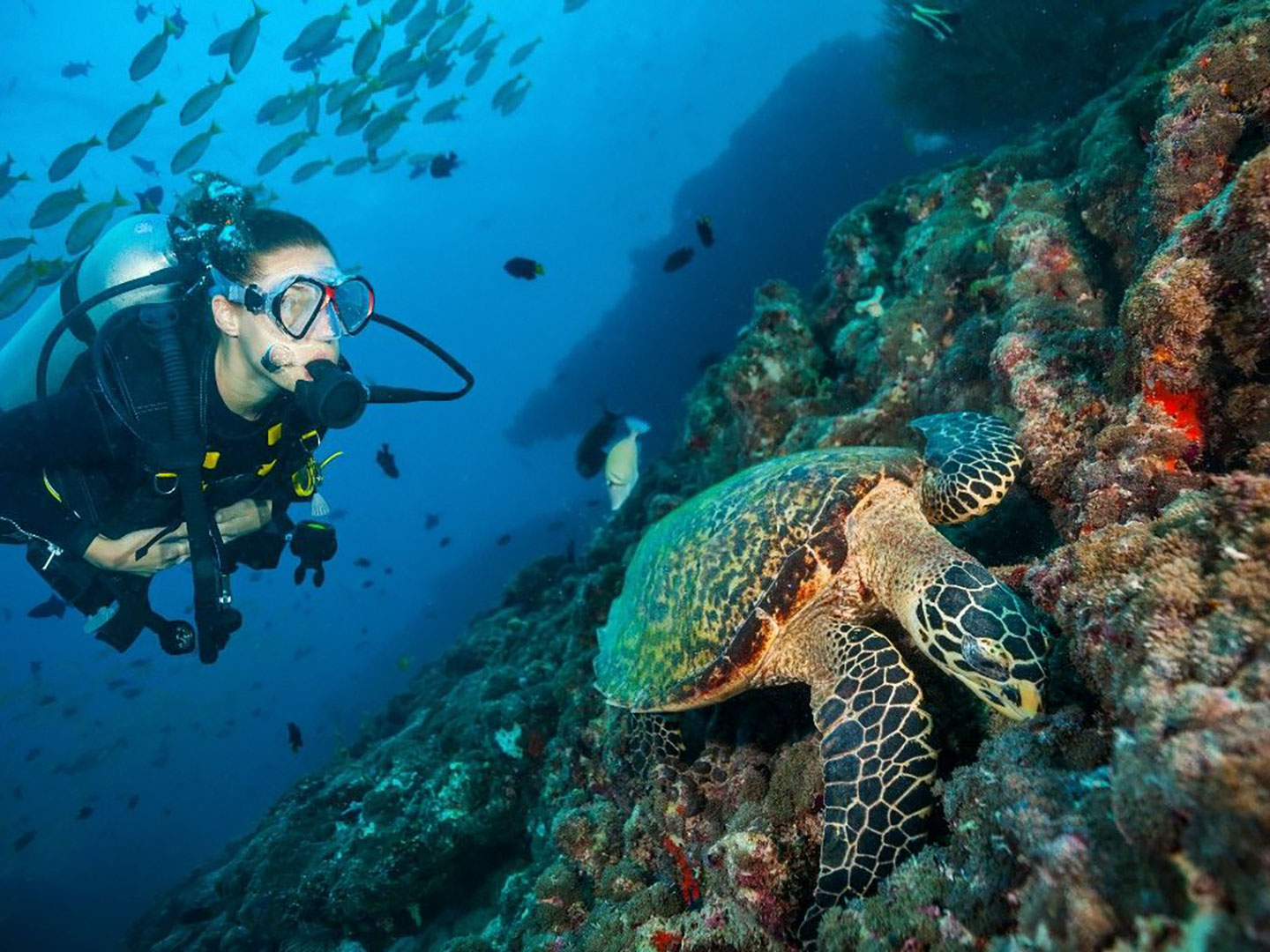 Each island on the Maldives has its unique geographical shape and form, and almost every Maldivian resort is a private island destination. This means the facilities and amenities, especially the restaurants are the only ones you have access to during your stay. Be very clear of what you plan to do on the island.
Are you there to chill and relax? Perhaps a resort with an award-winning Spa and a private pool villa facing the ocean is good. If you are a fan of marine life and would like to go snorkelling every day, you may want to stay in a resort that boasts a beautiful house reef that is within swimming distance. Some resorts have calm and clear lagoons that are perfect for swimming but would require a boat trip to the nearest reef for snorkelling.
At Grand Park Kodhipparu, the house reef is just around the island. Guests can get up close and personal with a variety of marine life, such as juvenile sharks, turtle, stingrays, a school of needlefish right at their own villas. Interested to get certified for scuba-diving or an amazing recreational experience under the sea? Our Dive & Water Sports Centre can help.
3. Island Size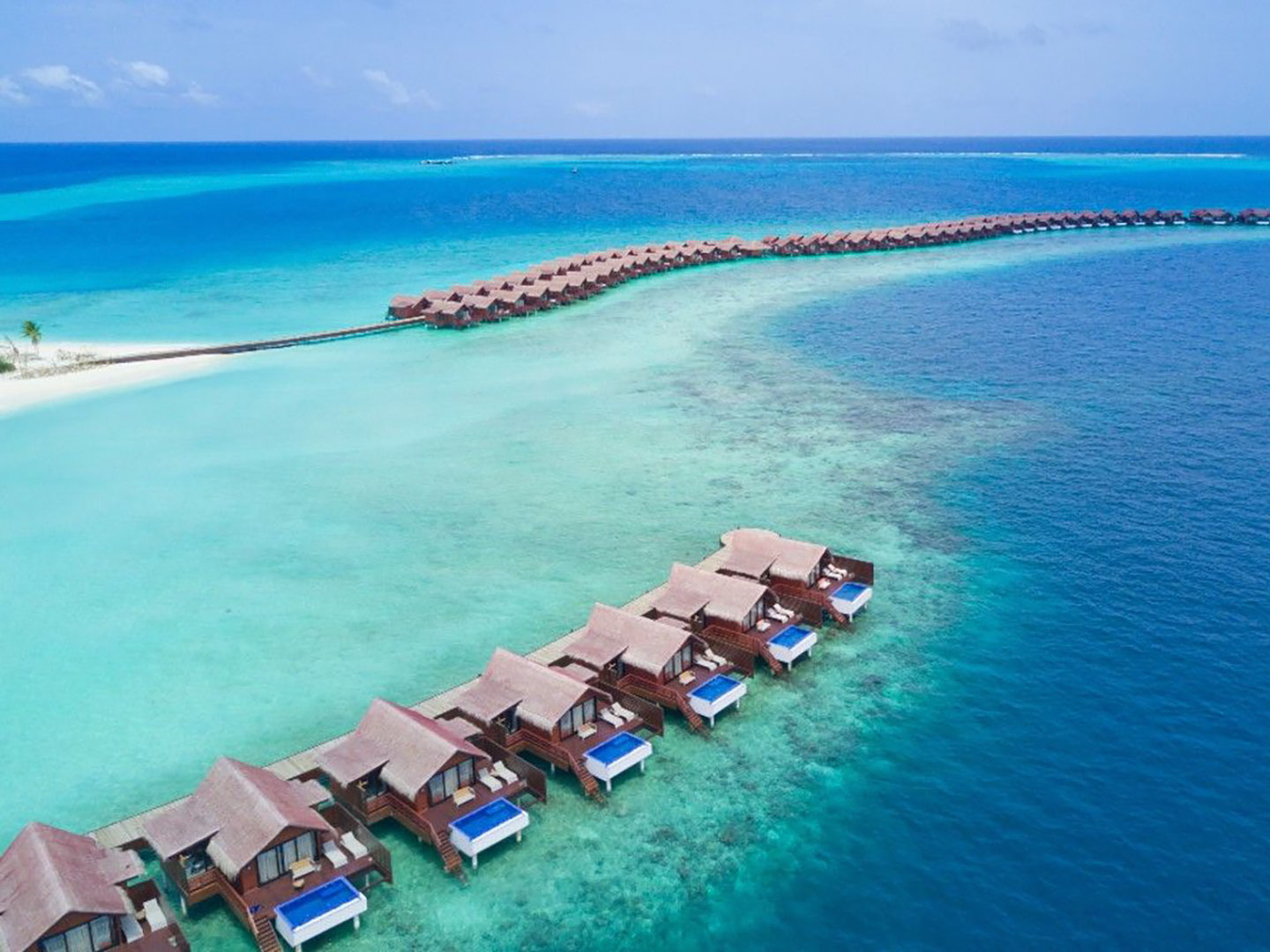 Each island in the Maldives is one of its kind and they come in various sizes. Some resort spans several connected islands, some are big enough to be explored with a rental bike, while some are of a cosy size where everything is within a buggy's ride. The resorts usually offer various experiences and activities to entertain their guests. Guests at Grand Park Kodhipparu enjoy movie night, island excursions, Male city tour, sunset cruise, dolphin trip, water sports, romantic private dining experience and many more.
4. Accommodation Type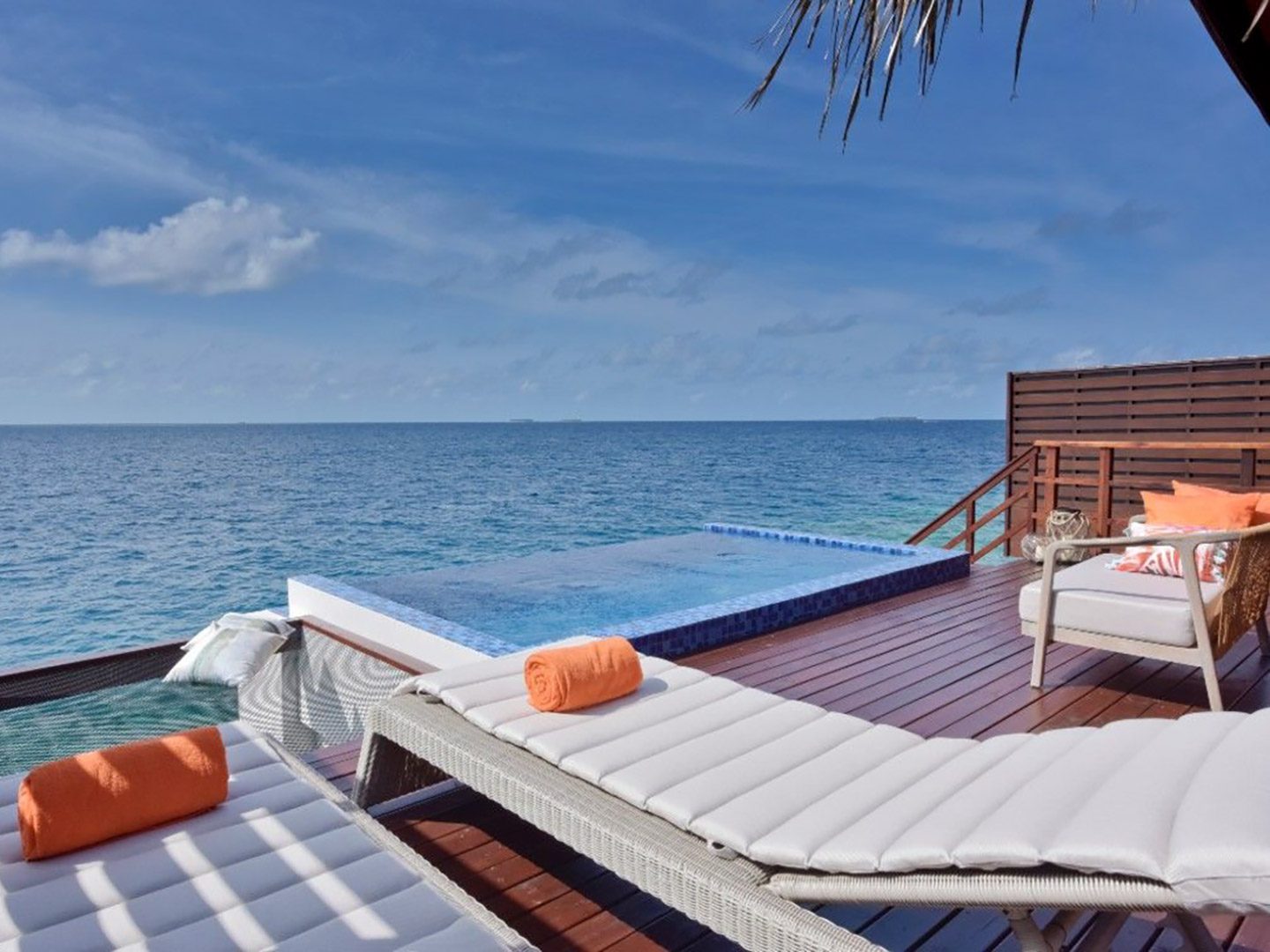 The Water Villas and Beach Villas are the two most common resort room types in the Maldives. The Water Villas extends out to the open sea, while the Beach Villas are built on the sandy beach. Both room types have different strengths, and it depends on what you are after. Do you want to step out onto a beach, or go directly into the water from your villa? Do you like the sight of palm trees, sand and sea or do you prefer a panoramic view of the Indian Ocean and don't mind exposing under the sun in the middle of the day?
At Grand Park Kodhipparu, we have 6 different villa types. Some of these villas feature a private pool, allowing you to slip into the tranquil waters as and when you like it. If you're travelling with your family, we recommend our Grand Residence that features 2-bedrooms, 2-bathrooms and exclusive living space. Stargaze in this private sanctuary while dining is an extraordinary experience. Create lasting memories with your loved ones by arranging an in-villa dining session with us.
Breakfast with a view, in the comfort of your own space at your villa.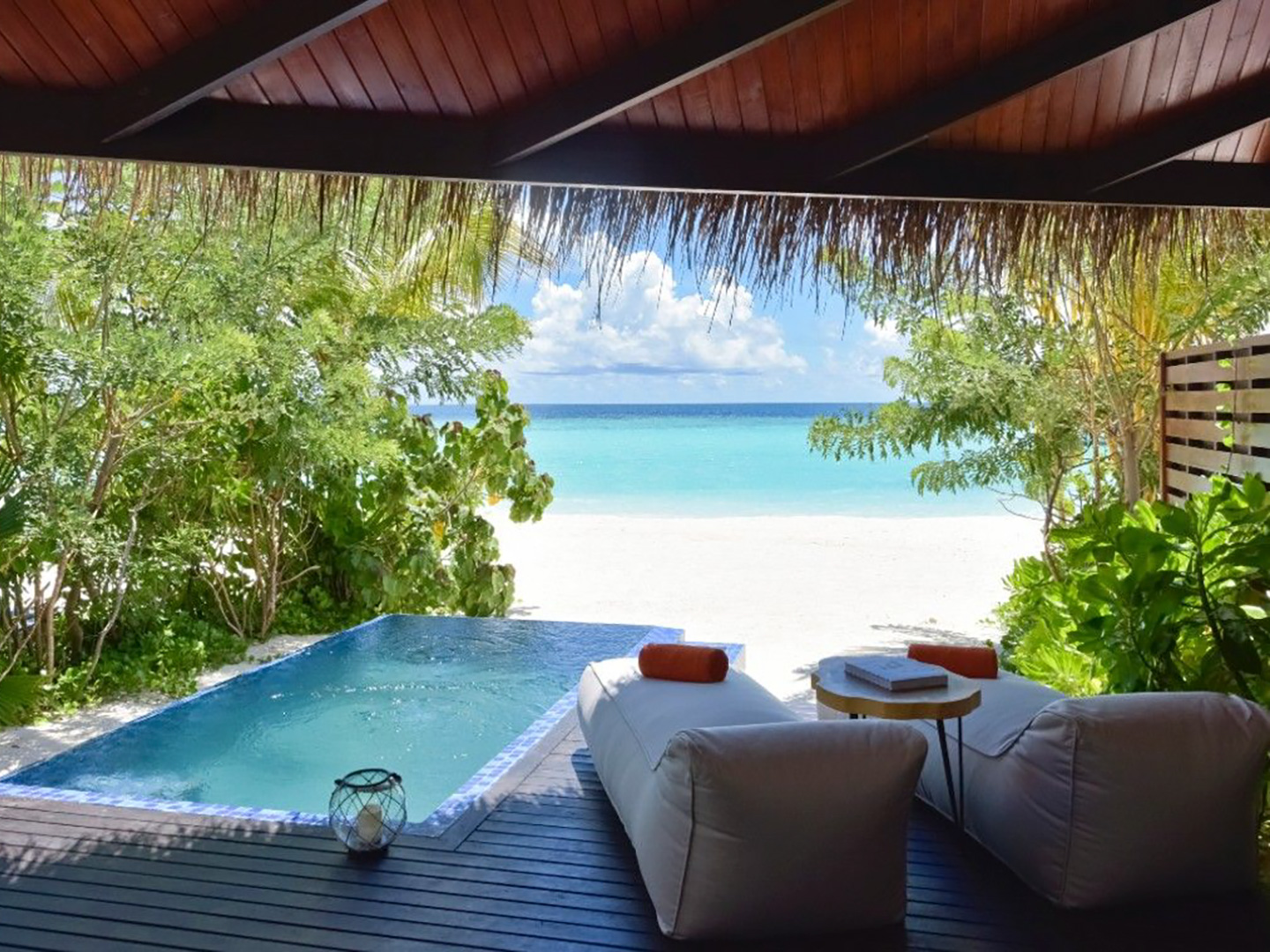 Beach Pool Villa at Grand Park Kodhipparu is surrounded by lush greeneries and the beach is a few steps from the terrace.
5. Meal Plans in the Maldives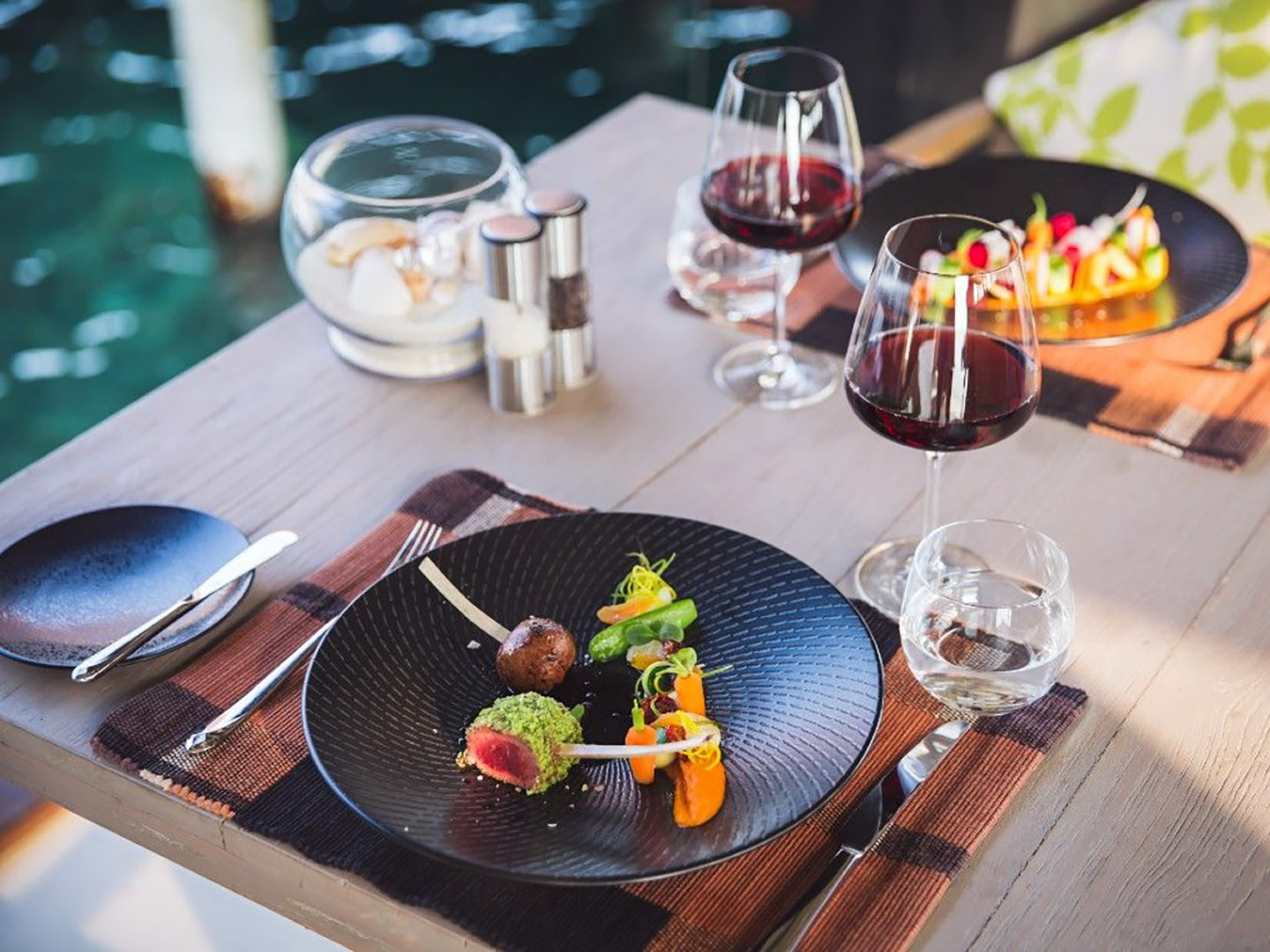 Travelling to another resort can be quite a hassle and costly in the Maldives. In addition, most of the resorts in the Maldives do not accept outside guests to their restaurants. That means your dining selection is limited to what is available at the resort. If you do not like to eat at the same place every meal, every day, it is best to check the dining options with the resort before booking.
At Grand Park Kodhipparu, we have 3 restaurants of different concepts: The Edge offers all-day dining, buffet breakfast & dinner. Firedoor is our dinner-only fine-dining restaurant specialises in Modern European cuisine while Breeze Poolside Dining & Bar is a laidback poolside bar that serves lunch and bar bites.
Meal Plan is another concept you have to know before your Maldives trip. The most common meal plans available in the Maldives are The Standard, The Full Board and All-Inclusive. The Standard meal plan includes breakfast and guests will be charged separately as lunch and dinner are not included. The Full Board will be entitled 3 meals of the day while the All-Inclusive usually consists of 3 meals and free flow of soft drinks and alcoholic drinks. For those who are considering the half-meal plan, Here's a good tip for you: Request the ala-carte menu from the resort to have a better gauge of which meal plan suits you best. Check out Grand Park Kodhipparu's diverse meal plans here.
6. Accessibility from Male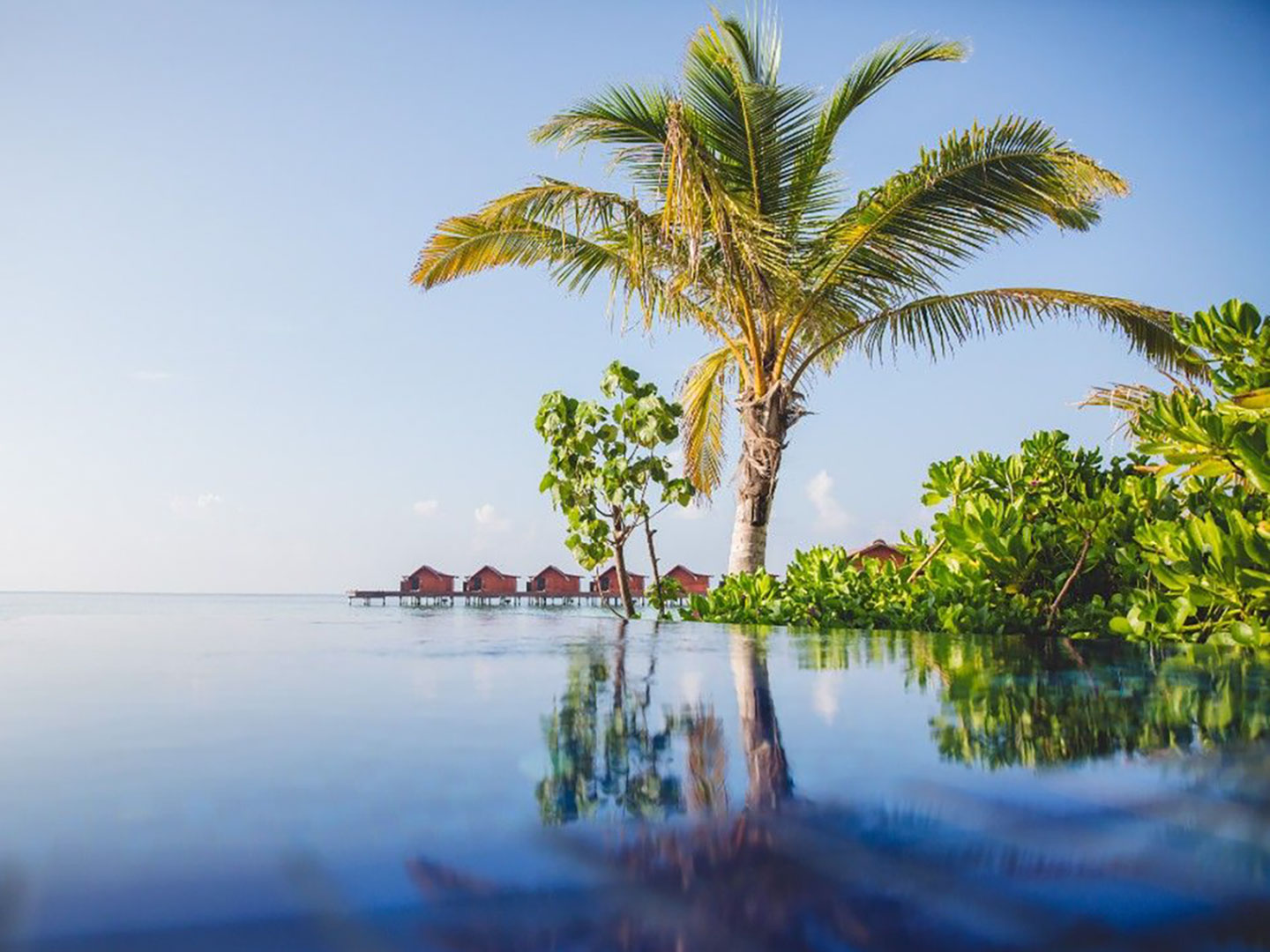 One of the distinctive features of Maldives is most visitors will experience a transit journey once they arrive at Velana International Airport in Male before finally arriving at their resort. Depending on the location of the resort you choose and its distance from Male, the transfers are either in speedboat or seaplane. The transit time varies from a 10 minutes boat ride to an hour's plane ride.
If you prefer to feel the exclusiveness of Maldives, a distant resort only accessible in a seaplane would be suitable. The seaplane rides, though fun and exciting, are usually small and comes with baggage restrictions. Seaplanes can only fly in the day time, so if your plane arrives or departs late at night, you might have to plan an extra night at Male City.
The resorts accessible from a boat ride are usually from the nearer islands in North Male Atoll and South Male Atoll. Transfer to these resorts is generally quicker and fuss-free. Some of the resorts in these areas come with the sight of civilisation in the distance, so it is good to check with your resort.
PHOTO CREDITS (from top to bottom): Grand Park Kodhipparu, Grand Park Kodhipparu, Getty Image, Grand Park Kodhipparu, Grand Park Kodhipparu, Grand Park Kodhipparu, Social Habitats James Rodd, Social Habitats James Rodd, Social Habitats James Rodd.
---
Other Articles you may like