Alternative Venues for Your Intimate Destination Wedding
Destination weddings are becoming increasingly popular. More couples are choosing intimate venues for their small-scale nuptial celebrations to share their joy with only their immediate families and loved ones. Wedding trends have changed over the years, and elopement weddings are no longer a taboo. Today, they are an alternative to a traditional wedding, especially for couples who prefer a wedding within their budget. If you are looking for an intimate wedding venue, or you prefer a unique destination for your solemnisation, here are our picks from the little less populated venues for small but unforgettable wedding at Singapore, Maldives, Japan and Xi'an.
A Chinoiserie Chic Wedding at Yàn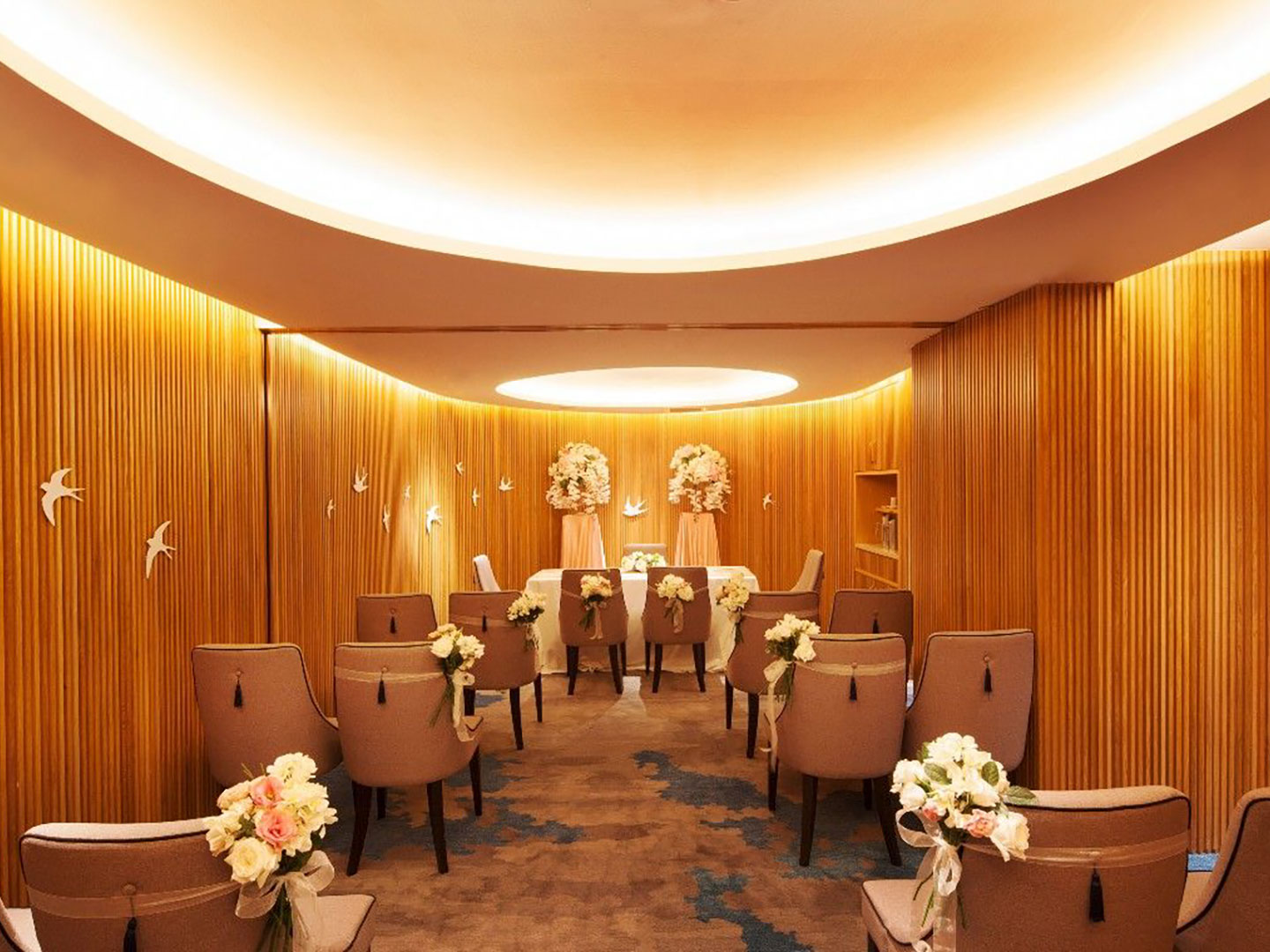 Perched on the 5th floor of the City Hall rooftop within the iconic National Gallery Singapore, Yàn Restaurant is perfect for modern brides looking for an intimate space with contemporary Chinese dining option.
Adorned with oakwood, the space is brimming with a zen-like atmosphere. A unique backdrop of a various fan-shaped kaleidoscope of vibrant red, fuchsia and purple oriental prints create an elegant "East meets West" touch for the celebration. It is perfect for those who are interested in incorporating your cultural ties on your big day.
Yàn caters to small unions of 10 people at their private rooms, and an exclusive wedding banquet in the restaurant up to 150 people. The specially tailored wedding menu of 8 signature courses features authentic Cantonese cuisine, with some dishes served individually plated alluding the modern touch, and some in a sharing plate symbolising family togetherness and friendship.
Caption: The installations of a flight of swallows in the private room symbolise joy, everlasting love and loyalty.
What We Love: We adore the whimsical and flamboyant interpretation of the oriental interior here at Yàn! Just some simple flower decoration and you're done with the venue decoration. #bridechilla Goals. It works as a lovely alternative venue for solemnisation, especially if your guests appreciate fine, authentic Chinese food. Yàn is currently having a promotional package where confirmed couples will get a complimentary jewellery voucher worth $388 from On Cheong Jewellery. Time to shop for Si Dian Jin!
1 Saint Andrew's Road, #05-02 National Gallery Singapore, 178957
Click here for more weddings & events information at Yàn.

Old-world Glamour Wedding at a Swanky Bar against Singapore's Iconic Skyline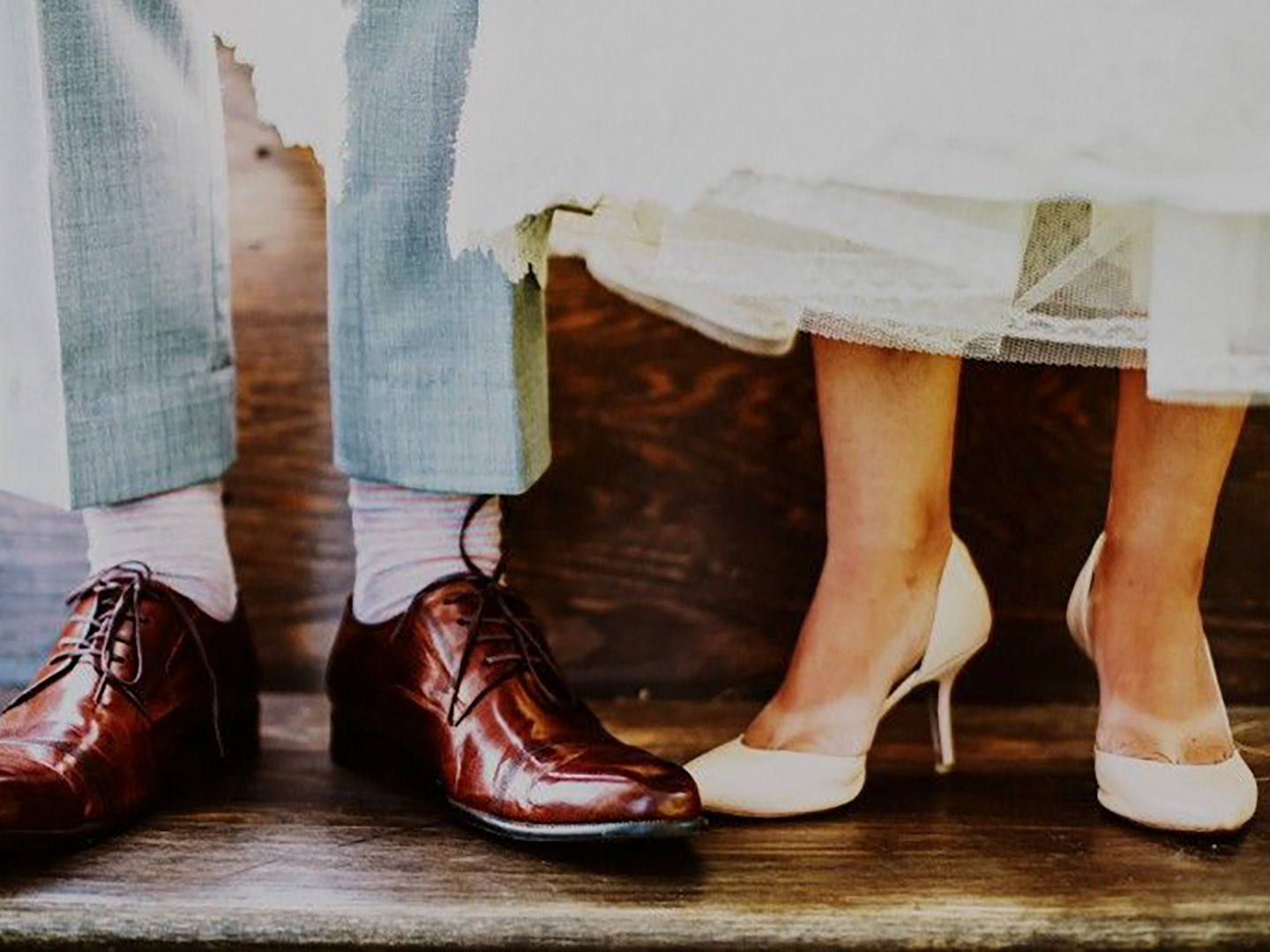 Calling out to bold brides looking for a sleek, polished and sophisticated rooftop bar as the venue to say "I do". Situated atop the National Gallery Singapore, Smoke & Mirrors is perfect when it comes to an intimate destination wedding. It has an indoor space furnished with warm lighting and a stunning, futuristic sculptural bar and leads out to an open deck with unparalleled views of the city's most iconic skyline.
For couples who are particular about the tipples, the bar can even mix up a custom cocktail for your special occasion to make it even more memorable. While Smoke & Mirrors serves light bites, couples expecting 30 - 150 guests may opt for specially designed hi-tea or dinner buffet menus.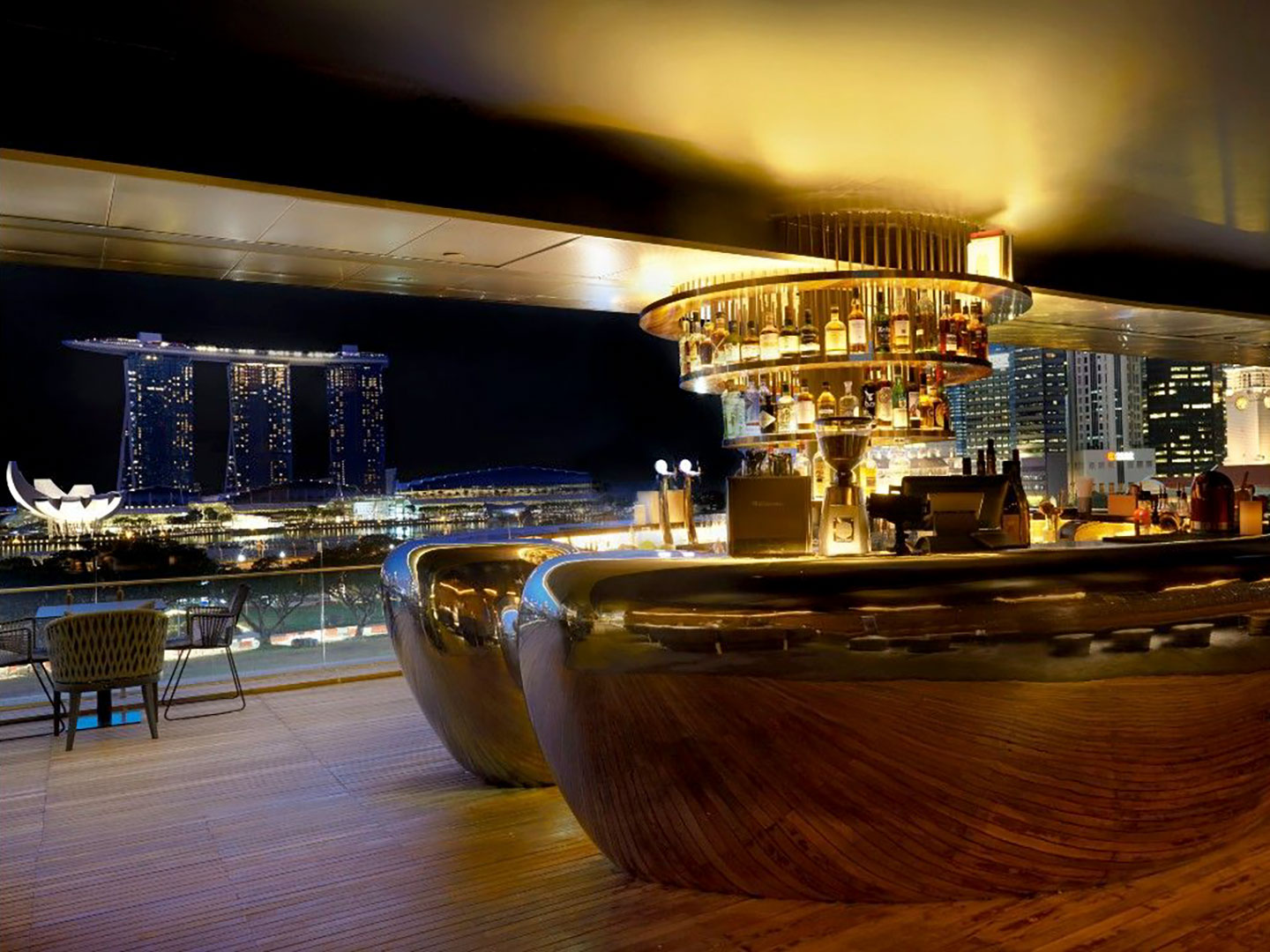 What We Love: The wooden floor, copper tones and the unobstructed view of Singapore's city skyline exudes a vibe of sophistication. The interior is packed with old-world glamour, perfect for a fun-filled Hollywood Glam or Great Gatsby themed wedding.
1 Saint Andrew's Road, #06-01 National Gallery Singapore, 178957
Click here for more weddings & events information at Smoke & Mirrors.
Say "I Do" at a Seaside Chapel set against the Scenic Hokkaido Harbour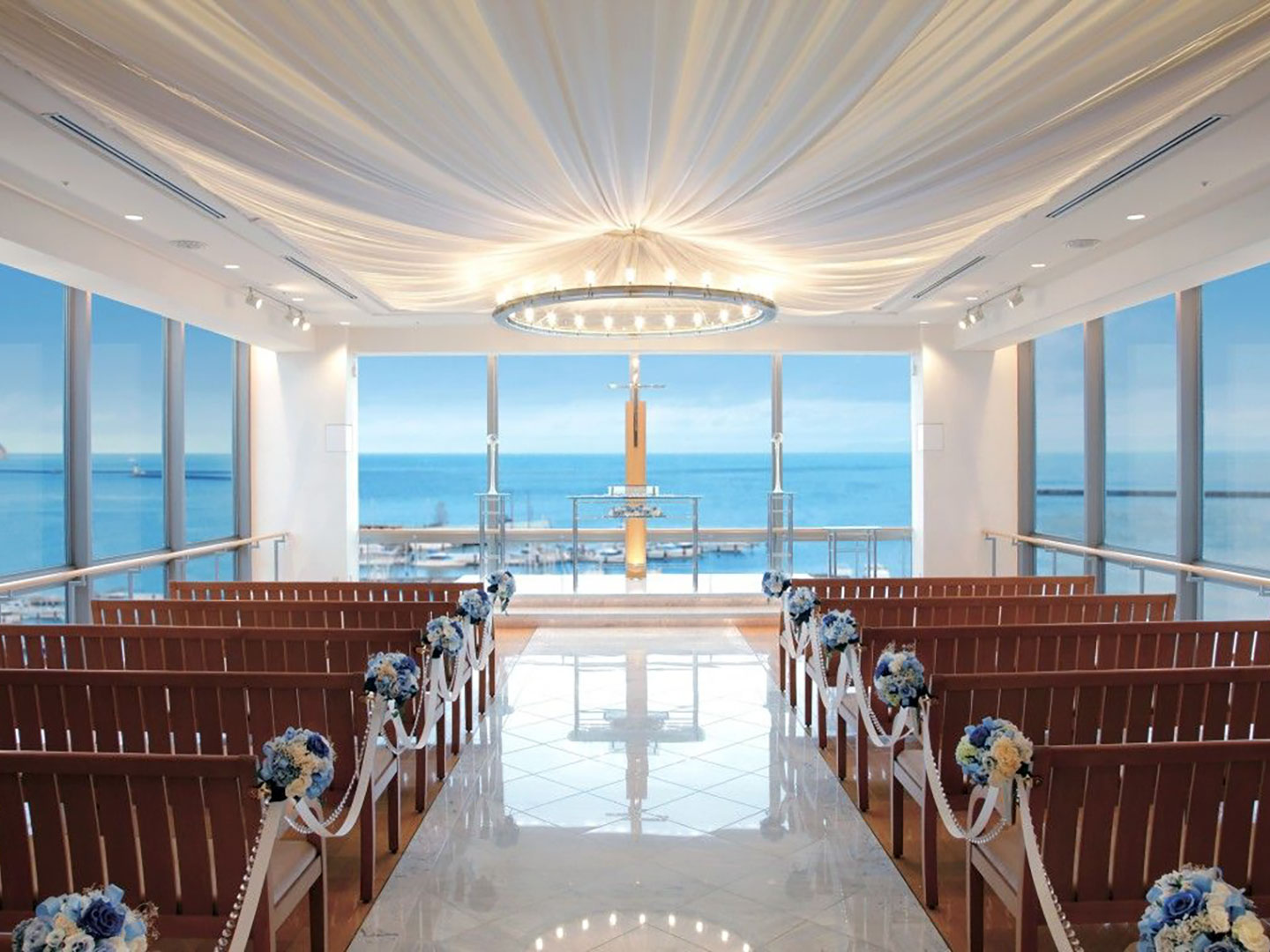 Impress your crowd with this awe-inspiring chapel surrounded by the vast blue seas of Ishikari Bay, one of Hokkaido's most scenic harbour. The seaside chapel features floor to ceiling windows, taking in the sweeping beauty of the vast blue seas as the backdrop on your special day. Couples who opt for a Japanese Shinto-style wedding hall will experience the Japanese wedding culture, from donning an elaborate Japanese bridal kimono to completing the Shinto wedding ceremony.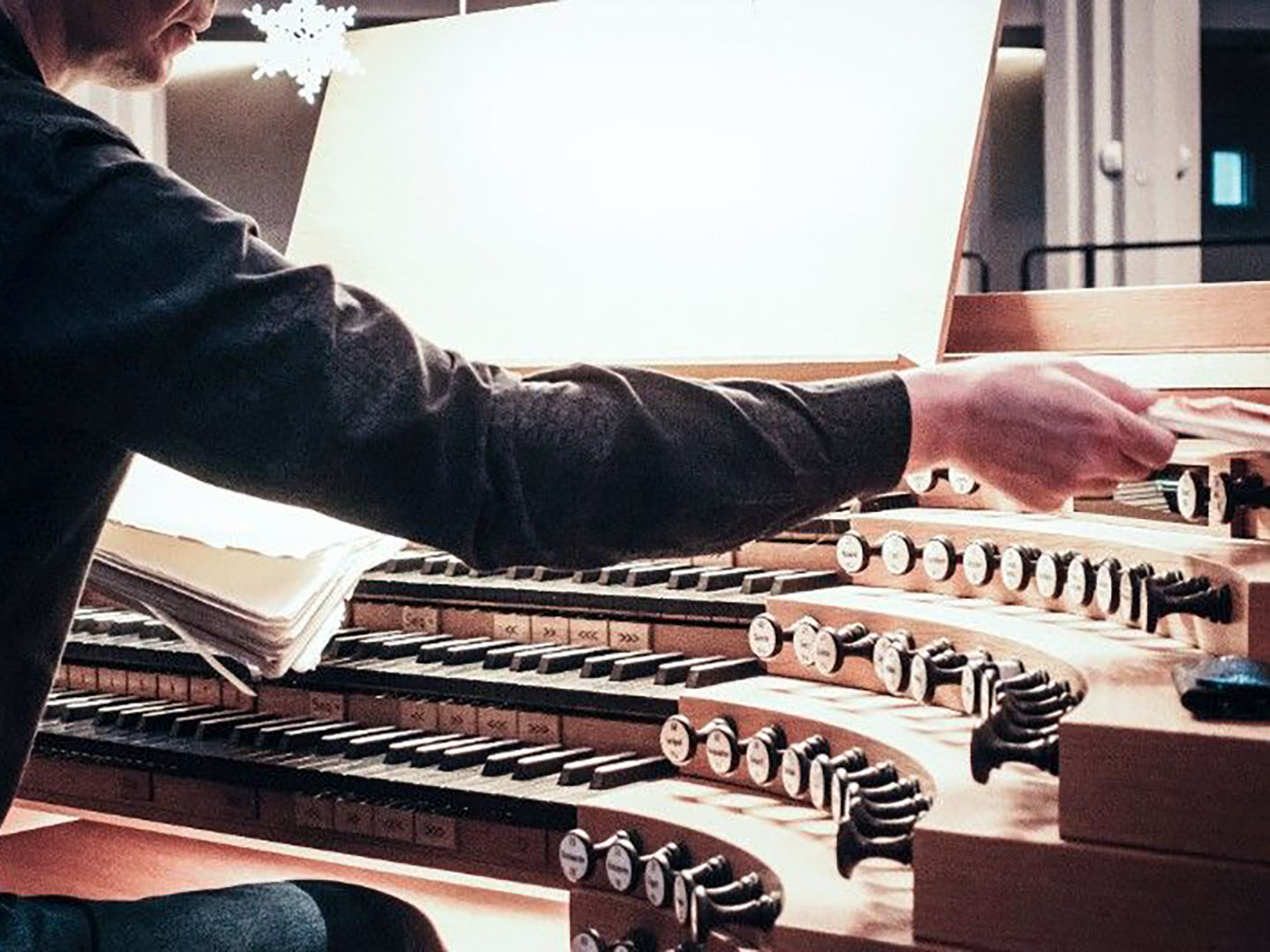 What We Love: We love how the stunning floor-to-ceiling windows allow plenty of natural light in for an airy day time celebration with the spectacular views of the sky, sea and yacht in the background. What makes us even more excited about this venue is the grand old organ in the hall, we are sure the organ music during the entrance and recessional will create memories last a lifetime!
Grand Park Otaru, 11-3 Chikko, Otaru, Hokkaido 047-0008, Japan
Request a wedding proposal at Grand Park Otaru here.
An Oriental Wedding with Xi'an Ancient City Wall as Backdrop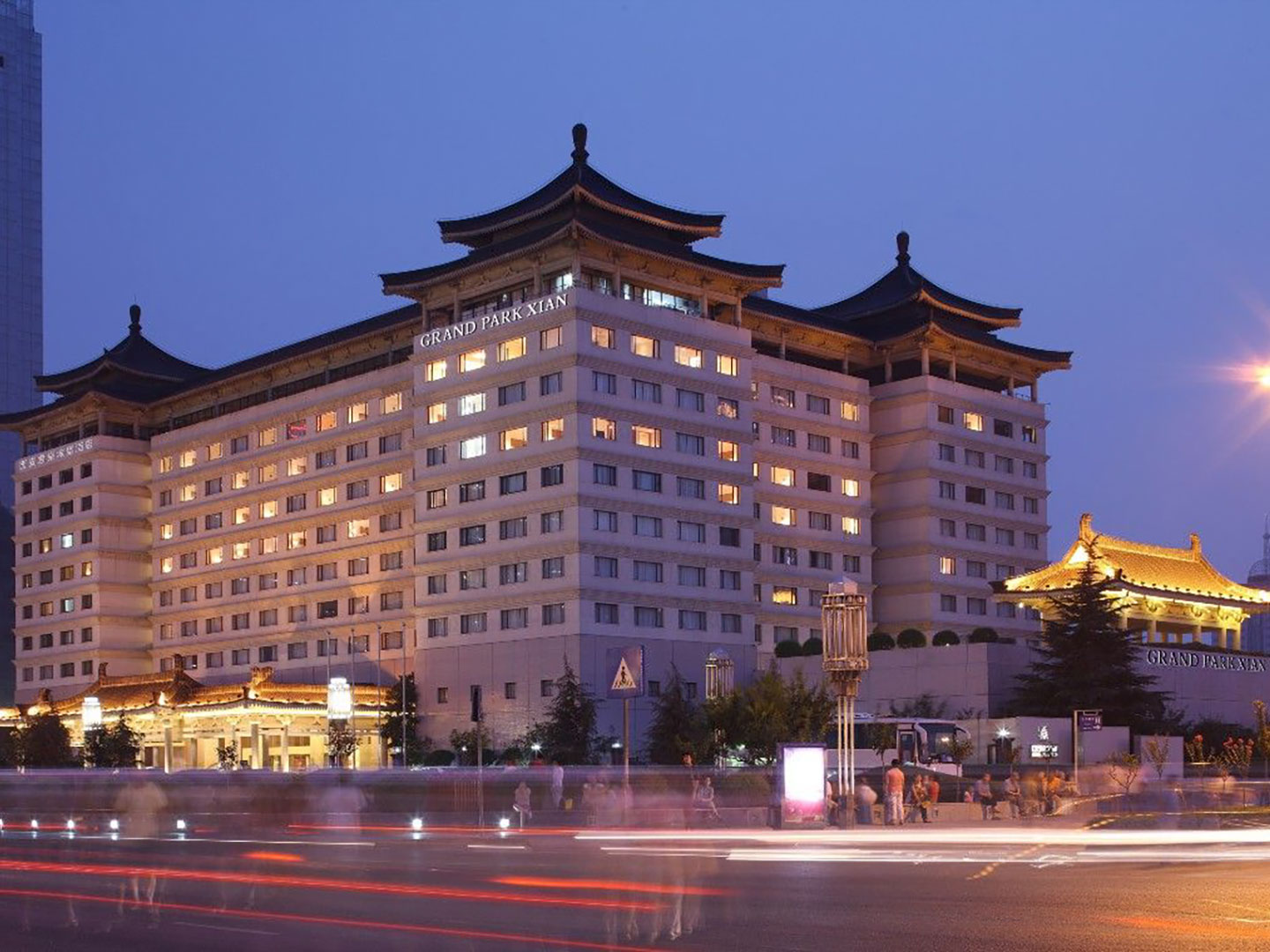 Exuding magic that spills from spaces steeped in history, hold your holy matrimony at the tower terrace of Grand Park Xian. A Chinese pavilion stood boldly against the busy cityscape of Xi'an, for couples to bask in the vast splendour, generous spaces and luxurious facilities infused with elegant touches from East and West on your nuptial.
Be it an ethereal wedding ceremony, or a traditional Chinese wedding customary that washes the entire venue with bold red and gold colours; you decide.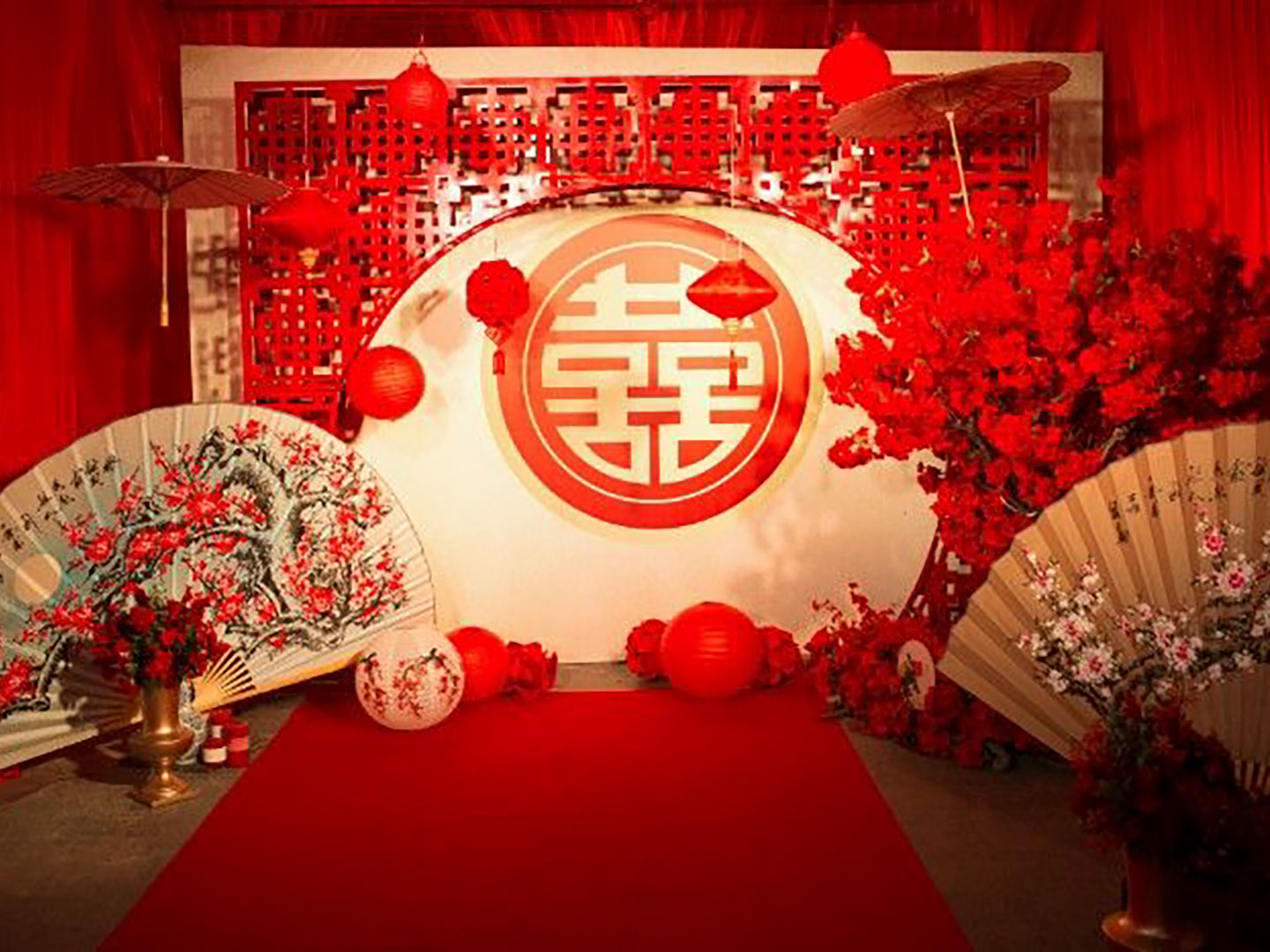 What We Love: The vast outdoor space at Zheng Yang Yuan (正阳苑) is versatile and multifunctional. From "Airy & Colourful", "Oriental", to "Chic East Meets West", the bright location allows you to go all out with the theme you'd like on your big day. A Story of Yanxi Palace-Inspired Wedding, maybe?
12 Huancheng South Rd West Section, Beilin Qu, Xian Shi, Shaanxi Sheng, China, 710068
For more information, write in at bqt.gpxa@parkhotelgroup.com
Elopement Wedding at the Maldives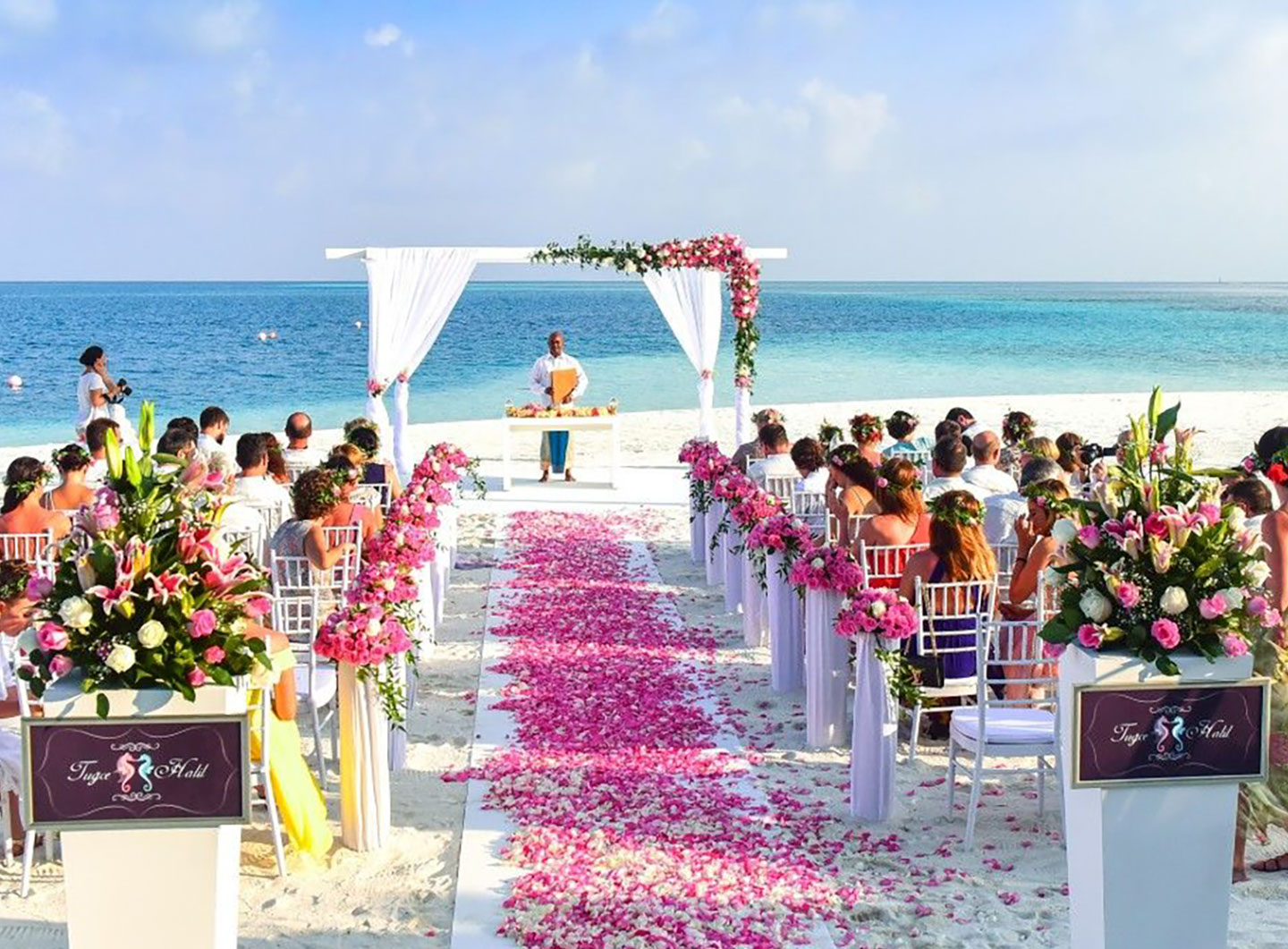 Elopement wedding is in trend as more couples buck traditional wedding in favour of a more intimate and personal ceremony. Forgoing a large, traditional wedding ceremony to elope does not necessarily mean skipping the wedding party altogether. It can be very simple for just the two of you, or a quiet and cosy wedding with only people who really matter.
At Grand Park Kodhipparu Maldives, the dedicated team handles all things from venue decoration, menu planning to arrange guests' stays so to keep your experience fuss-free and comfortable.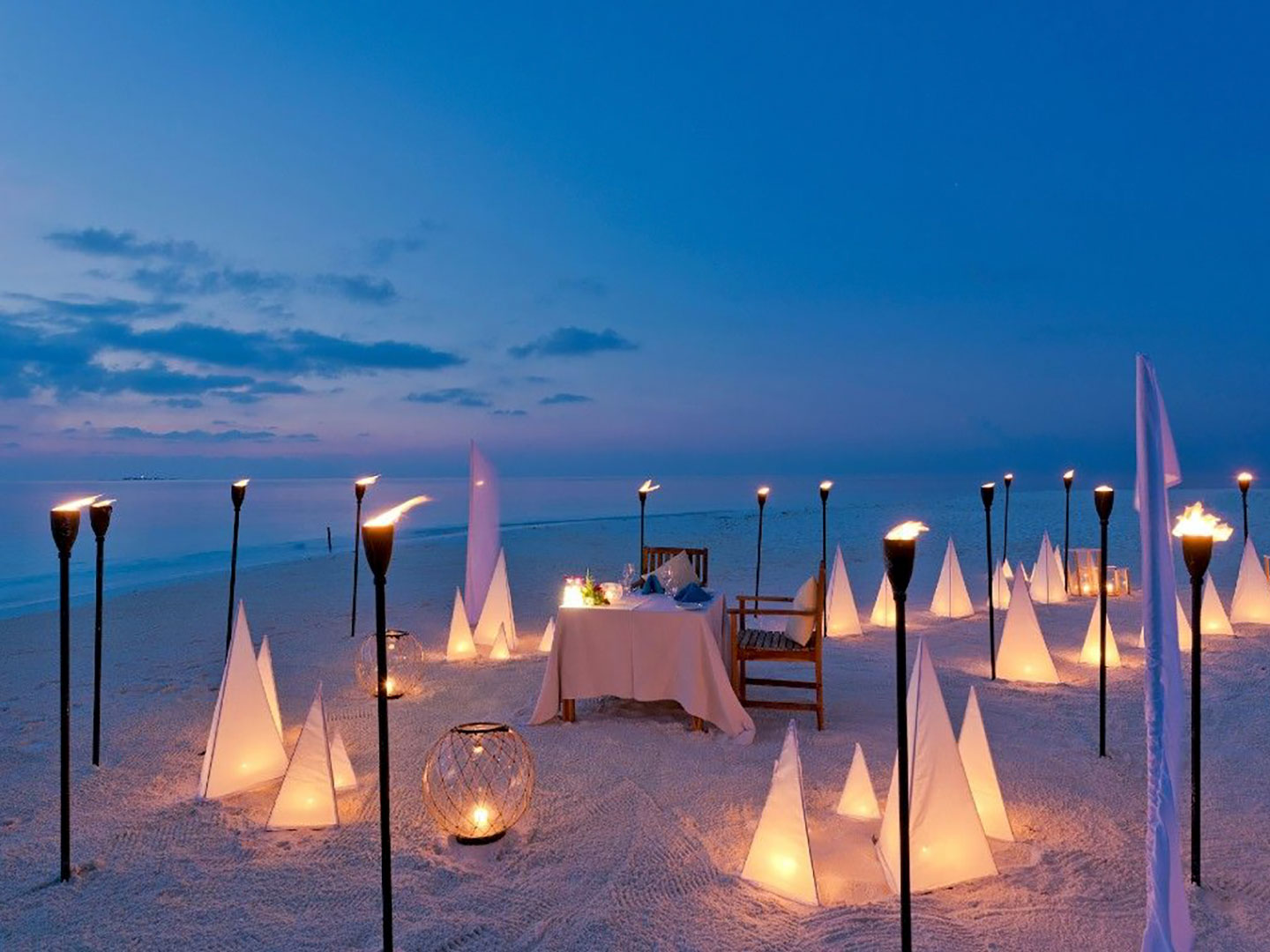 What We Love: Have the clear blue sky and the Indian Ocean bear witness to your celebration of love, followed by an unforgettable honeymoon – for much less than a traditional wedding! We recommend a ceremony at dusk at the sandbank, as the sunset casts a purple hue over the exceptionally dreamy location that will last you a lifetime.
Grand Park Kodhipparu, Kodhipparu, Maldives 08121, Maldives
Click here for more weddings & events information at the Maldives.
PHOTO CREDITS:
Wedding Couple - Photo by Katelyn Macmillan.
Interior at Yàn - Yàn
Private room for Solemnization at Yàn - Yàn
Iconic National Gallery Singapore & Wedding floral - Smoke & Mirrors
Custom cocktail illustration - Smoke & Mirrors; Wedding Couple - Photo by Nathan Walker
Futuristic Bar at Smoke & Mirrors
Floral Wedding Arch - Photo by Samantha Gades; Couple Holding Hands- Bride Story
Seaside chapel overlooking Ishikari Bay - Grand Park Otaru
The Grand Organ - Photo by Hao Zhang
Grand Park Xian in the dusk
Tower terrace Zheng Yang Yuan. Grand Park Xian
Matrimonial ceremony at Zheng Yang Yuan, Grand Park Xian
Traditional Oriental Themed Wedding, Grand Park Xian
Elopement Wedding - Photo by Asad Photo Maldives from Pexels
Romantic dinner at sandbank - Grand Park Kodhipparu Maldives
---
Other Articles you may like