Seoul is one of our favourite cities. And the best ways to exploring a little of everything this city has to offer is walking. There are a few charming neighbourhoods in Seoul where you can wander around aimlessly, enjoying the historical characteristics of the space. Here at this blog, we introduce Seoul's most picturesque districts best explored by walking. Don't worry about getting lost at these mazed alleyways lined by hundreds of charming Hanoks (Korean-style homes) -- it is part of the pleasure here.
SEOCHON VILLAGE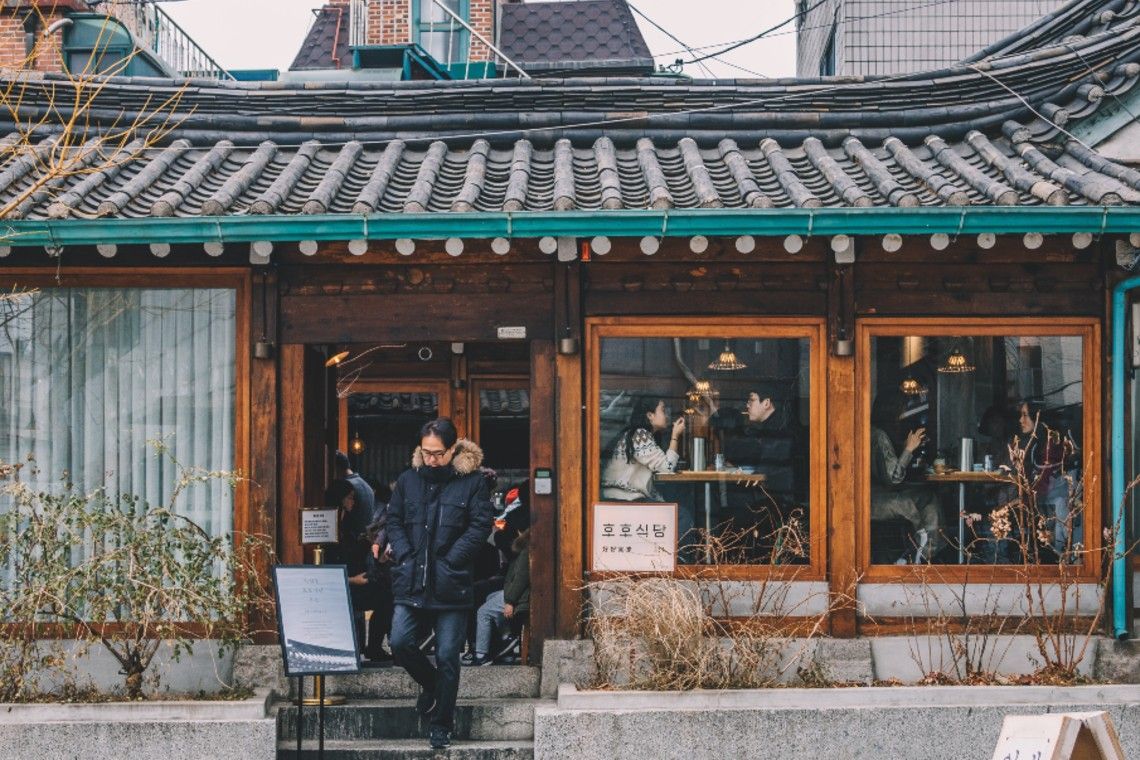 The Seochon Village (서촌 마을) refers to the neighbourhood at the west of Gyeongbok Palace area, which is widely referenced as the "West Village" since the olden days. One may ask the difference between the widely popular Bukchon Hanok Village and the Seochon Village. They are both neighbourhoods filled with Hanok, the traditional Korean houses. While the Bukchon Hanok Village used to be inhabited by the elite Yangban Noble class during the Joseon Dynasty, Seochon was a neighbourhood filled with middle-class professionals. The hanoks here are of a remodelled style, integrating the modern lifestyle, therefore gives off a more relaxed vibe.
Walking around Seochon village is like exploring a maze in the city. Expect to see a lovely sight of the town at every turns and corners, and a better glimpse into the South Korean middle-class lifestyle, which draws vast difference from the polished atmosphere in Bukchon.
Recommended Activity at Seochon Village: Visit Tongin Market
A must-do though is to visit the Dosirak Café at Tongin Market, where you create your lunchbox by walking through the market alleys with a food tray. For KRW 5,000, you will be given yeopjeon (traditional brass coins) that you can exchange for authentic Korean dishes along the alley. Do not miss out the popular Gireum-tteokbokki, a type of spicy rice cake dish made of spicy chilli oil, and tteokgalbi, Grilled Short Rib Patties.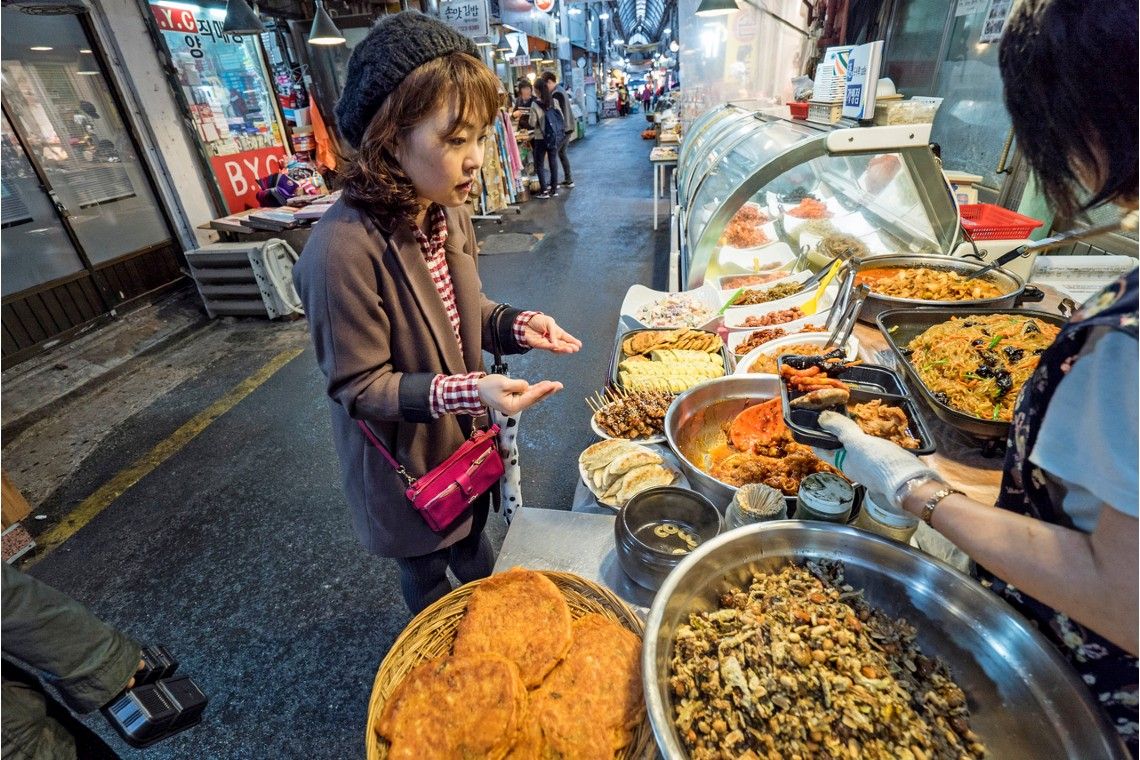 Visitors create their lunchbox at Tongin Market.
Yeopjeon (traditional brass coins) in exchange for a sumptuous Korean lunchbox at Tongin Market.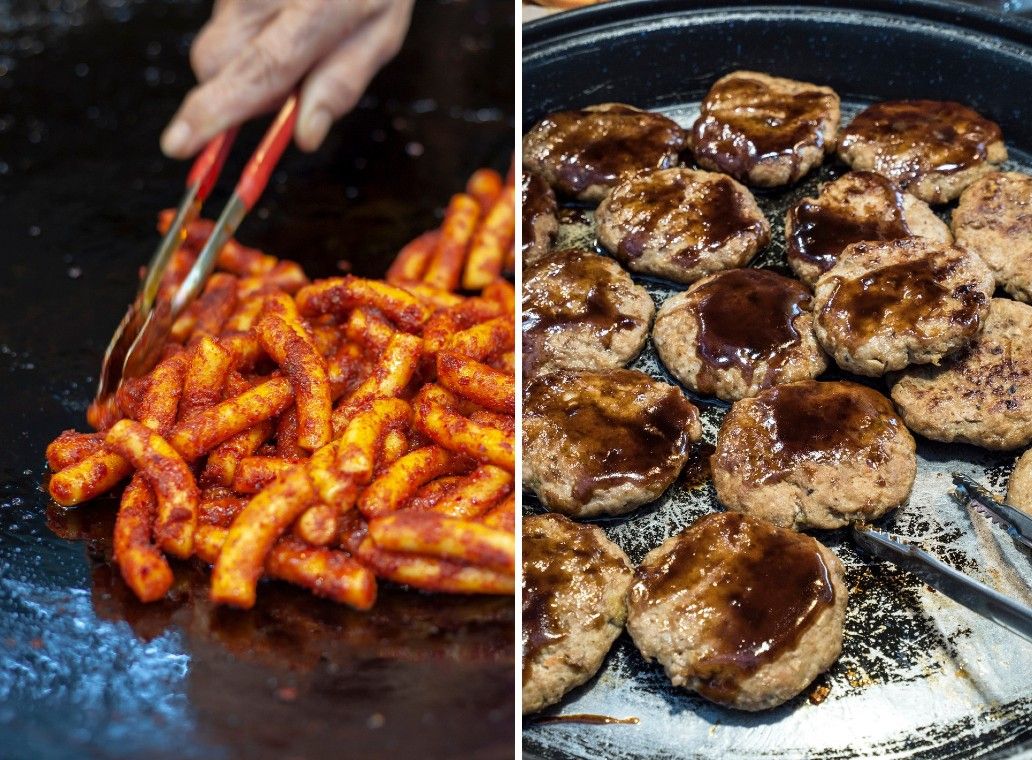 On The Left - Gireum Tteokbokki, On The Right - Tteokgalbi, the two classic menus here at Tongin Market.

IKSEON-DONG
Despite being one of the oldest neighbourhood in Seoul, Ikseon-dong (익선동) has become immensely popular with the young Seoulites. In the recent year, it has been transformed INto a cultural enclave of the younger generation, where traditional hanoks are redeveloped into cafes, restaurants, pubs and boutiques. All the shops here are so Instagram worthy that one would be surprised to learn that a day is simply not enough to explore what Ikseon-dong has to offer.
Recommended Activities at Ikseon-Dong:
It is a small neighbourhood with narrow alleys worth exploring. Check out some shops, grab a bite, and stop for coffee all within a few minutes walking distance:
Ikseondong Ssal Sanghoe| Famed for its hotteok, a traditional Korean rice pancake with sweet fillings. This shop also does fusion hotteok that comes with savoury fillings.
Uncle Videotown| A themed cinema café with a nostalgic interior. Visitors may catch a movie in their screening room within the café. Movie list rotates every 2 months.
Iksun Banjoo| A restaurant that serves fusion Korean cuisine and a huge variety of traditional Korean wines.
The lights and rustic vibe of Ikseon-dong at night.
SAMCHEONG-DONG
Just at the east of Gyeongbok Palace, lies a scenic neighbourhood where western consumerism alloyed with Confucianism. Here at Samcheongdong (삼청동), you will find yourself surrounded by hanok homes built by the aristocracy before WWII, chic art galleries and upscale restaurants. Pop into any café for decent coffee, then explore the quirky museums (There is a Chicken Museum and an Owl Museum around the vicinity). Wander around the neighbourhood's crooked alleyways and perhaps pausing for a cup of jujube tea during winter, or a patbingsu (red bean shaved ice) during summer at a traditional tea house.
Recommended Activity in Samcheong-dong: Visit Bukchon Hanok Village
Home to around 900 Hanoks, Bukchon Hanok Village, is the largest traditional housing area in Seoul off the northern side of Gyeongbok Palace. The area gets really busy in the day, so be early if you wish to soak in the atmosphere of the olden days of the Joseon Dynasty while admiring the tiled roofs and patterned walls of the neighbourhood.
Patbingsu is one of the most popular summer desserts in Korea.
Bukchon Hanok Village, Seoul's largest concentration of Hanok homes.
PHOTO CREDIT:
KOREA TOURISM ORGANIZATION