A RICHLY WOVEN TALE
It was a flash of colour – a vision of lime green and purple. From a bamboo teahouse across the road, an astonishingly adorned woman, too fragile and decorative for real life, emerged. She took tiny quick steps along the cobbled streets, the obi (sash) bobbing in rhythm with the gold hairpins in her magnificent black hair.
Step into the "flower and willow world" of geishas and kimonos, mostly underrepresented in movies and books that ill-prepare you for your first sight of Japan's national dress. The Japanese kimono is pure drama played out on fabric; when the wearer moves, the story comes alive. It has captured the imagination of fashion designers the world over, including Jean Paul Gaultier, Alexander McQueen, Coco Chanel and Dries Van Noten. Fascination with this incredible garment has long been entrenched in Japanese society and has come to represent the country globally.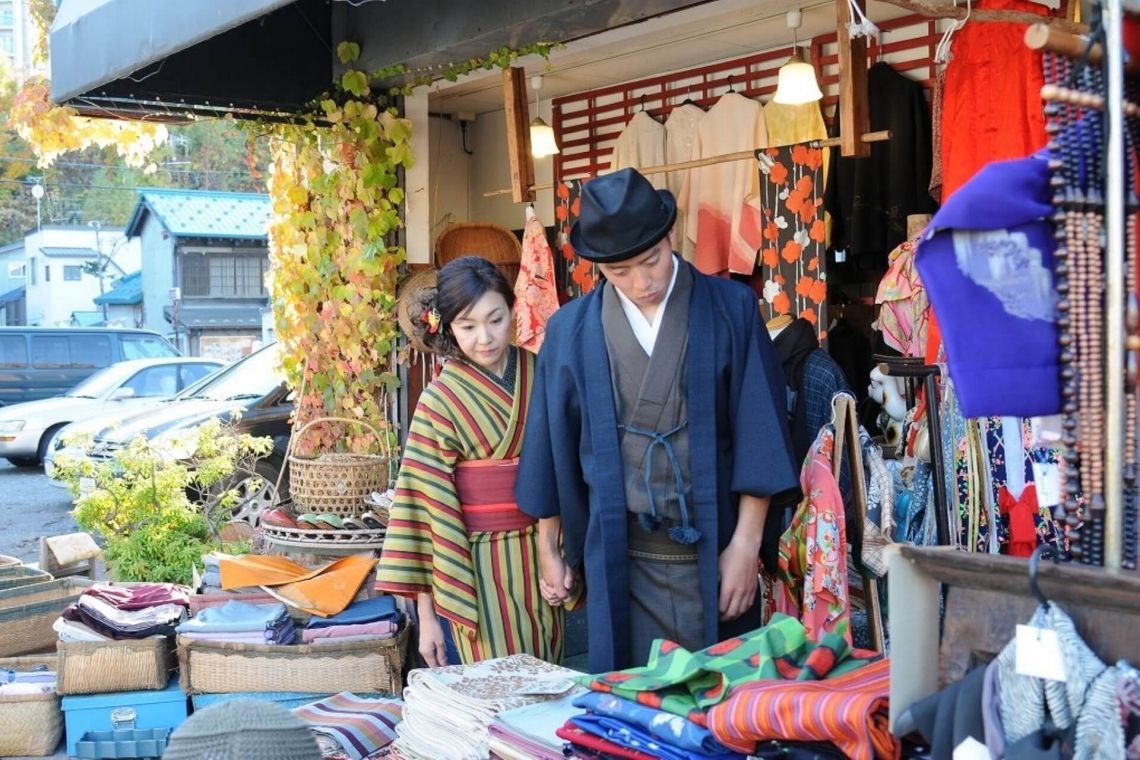 NATIONAL ICON
Meaning "the thing worn", the term kimono was adopted in the mid-19th century. Prior to that, it was called a kosode or small sleeve, in reference to the opening at the wrist. Even now, every element – sleeve length, colour and material weight – communicates meaning about the wearer.
The clean, straight cut of the kimono as we know it today first emerged in the Heian period (794-1192). It was designed to adapt to the seasons, which inform every aspect of Japanese life, and to have a shape that would accommodate all figures. Over time, wearers became more concerned with the aesthetics of the cloth, and fabrics were carefully colour coordinated – often in sync with the time of year or to show social class.
With the advent of samurai outfits during the Edo period (1603-1868) – a time of political stability, economic growth and urban expansion in Japan – the crafting of kimonos evolved into an art form. The rigid hierarchy of the ruling Tokugawa shogun meant the chonin (class of merchants and artisans) could not improve their social status through wealth, so expensive clothes became a way to display it. Wealthy wives went to incredible lengths to outdo one another with increasingly luxe kimonos.
Today, apart from geishas and members of the highest echelons of society, most Japanese only don kimonos for special occasions such as summer festivals, weddings and the 7-5-3 celebration (for children of those ages). One of the most notable formal events is the Coming of Age Festival. On the second Monday in January, those who turned 20 in the past year (symbolically becoming an adult) will wear a kimono on their visit to a shrine. Females wear furisode – kimonos with sleeves that flow almost to the ground (which, in the past, would have fluttered to show love for a potential suitor). Males wear haori (half-coats) and hakama (apron-like garment tied around the waist) decorated with their family crest.
The kimono is full of symbolism, particularly for women. For example, a furisode can only be worn by unmarried women. Brides wear a pure white kimono called shiromuku, with the white signifying the start of a journey. After the wedding, she can wear a tomesode, often a black kimono which has shorter sleeves and elaborate patterns, mostly below the obi.
These days, young Japanese are more known for their cutting-edge, sometimes bizarre, fashion. Nonetheless, the kimono remains a revered national treasure despite its hefty price tag. Very few young Japanese have the collections of their elders, but many are keen to keep the tradition of kimono-wearing alive. Nozomi Nakashima, 27, an administrator, will inherit some of her mother's 30 kimonos. "These days, young people only wear the Japanese yukata (an informal kimono) to attend firework displays in summer, but we have more opportunities to wear them as we get older," she says. "Japanese women of any generation look absolutely stunning in kimonos."
Putting on a kimono is a complex process; wearers often need help getting dressed. Still, Nakashima cherished wearing one for her friend's wedding.
The outfit, which cost her more than ¥2 million, featured handwoven gold and silver details on an elegant red background.
Similarly, young Japanese men also take pride in their traditional dress. Ryuji Maehara, 27, wears a kimono as often as possible. A co-owner of a boutique, he says it is an inherent part of his identity: "It's pretty important to being Japanese. Although I don't need to wear or own it for my everyday life, it's vital to my heritage and shouldn't be forgotten."
Like paintings, the price and design of kimonos vary widely, ranging from affordable second-hand options to collectible extravagances. Mina Manabe, who owns Otomenokimono in Otaru, specialises in antique kimonos for sale or rent. "Although dyes are better today, classic kimonos have a special colour and are made of high-quality silk," she says.
For a souvenir that captures Japanese style and culture, it's hard to beat the kimono.
Parts of a kimono
1. An obiage supports the obi.
2. The obi is a sash that holds the kimono together. It is categorised by design, formality and material. The informal obi is narrower and shorter.
3. The sleeves on a furisode worn by unmarried women fall almost to the ground.
4. The ankle-high tabi or traditional socks are worn with thonged footwear like geta and zori.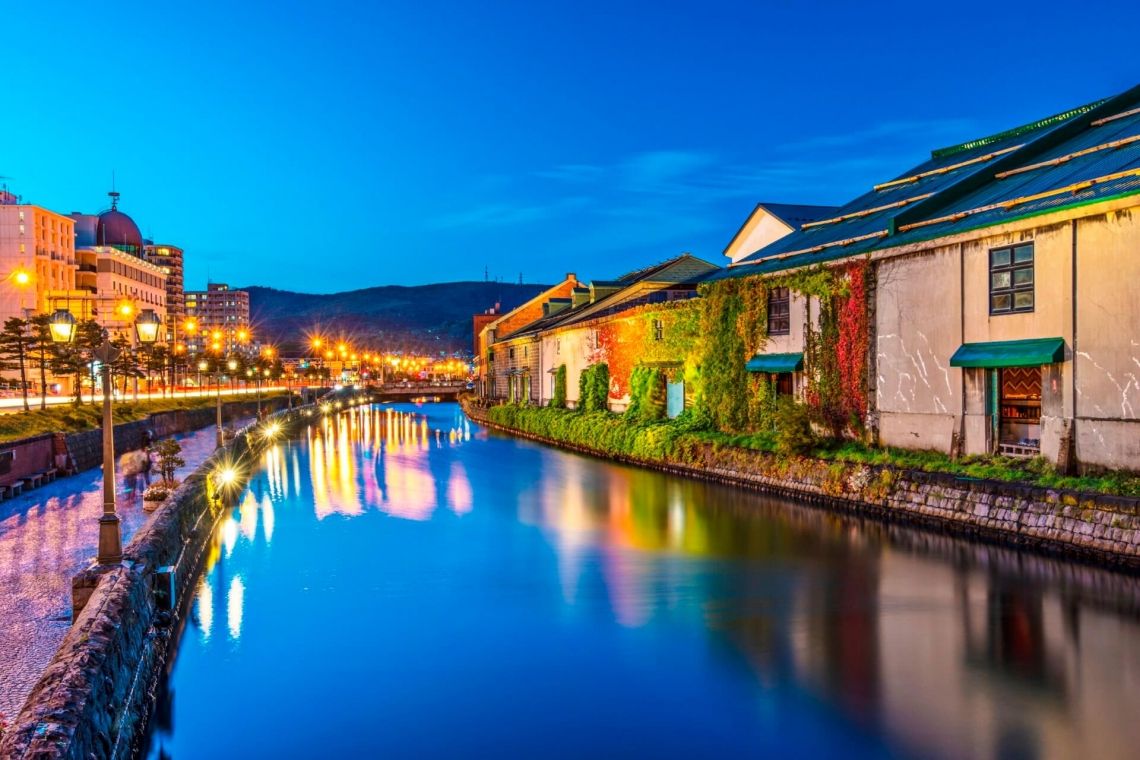 WHERE TO RENT OR BUY KIMONOS NEAR GRAND PARK OTARU HOTEL
Otome no Kimono ("Otaru kimono rental")
2-16-6 Inaho, Otaru, Hokkaido, Japan 047-0032
Tel: +81 134-61-7447
Email: nasuteacher@gmail.com
https://ameblo.jp/kimonootaru/
Prior reservation is necessary.
Kimono Shop (Rental & Purchase)
Otaru Rental Kimono
1-17 Sakaimachi, Otaru, Hokkaido, Japan
Tel: +81-134-22-0993
Kimono Shop (For Purchase)
Kadoiso Habutaiya
1-11-6, Hanazono, Otaru, Hokkaido, 047-0024 Japan
Tel: +81-134-22-8161
Kimono Shop in Sapporo
Mimatsu
Daimaru Sapporo(Level7)
7, Nishi 4 chome, Kita 5 jo, Chuo-ku, Sapporo, Hokkaido, 060-0005 Japan
Tel: +81-11-219-7000
https://www.mimatsu-kimono.jp/shop/hokkaido/01sapporo.html
READ MORE: Japan's kingdom of food, Hokkaido.
Photo credits (Top to bottom): merec0, Takarajim Travel, Katie, GaijinPot Travel