Feeding your body with nourishing foods may help boost your immune system. If you are looking for ways to supercharge your immune system and preventing cold and flu, you should try out this flavour packed, immunity-boosting pumpkin soup recipe.
We've covered an easy-to-make main course using Seabass and Japanese pickled ginger earlier. This time, Head Chef Ng Sen Tio at Yàn Cantonese Restaurant has prepared us a nutritious, easy and tasty Cantonese-styled pumpkin soup recipe we can make at home.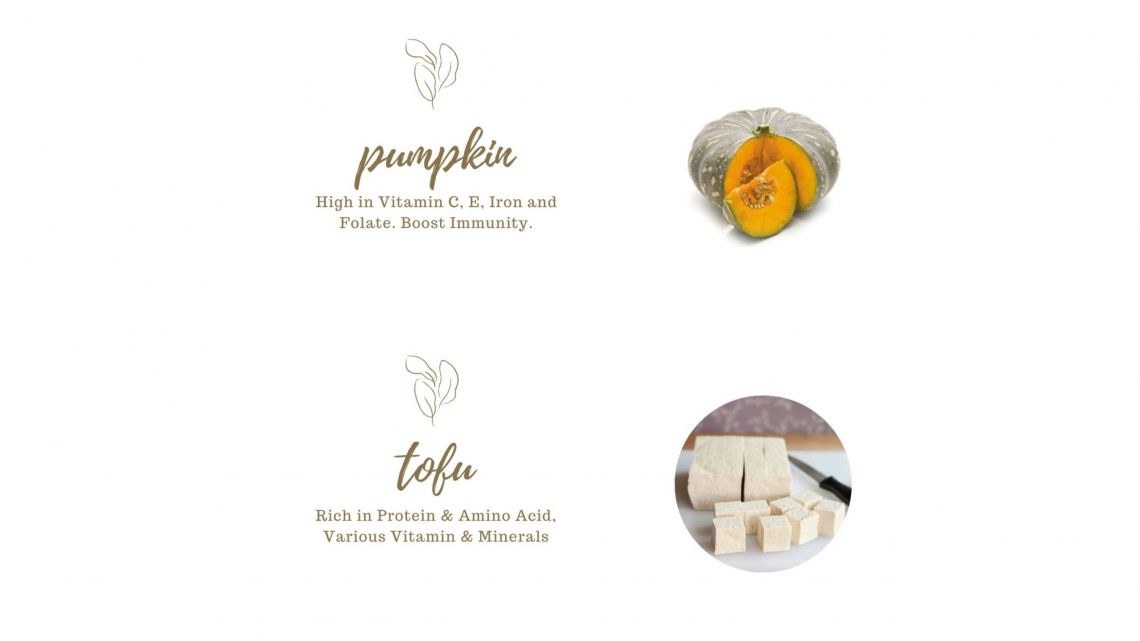 Pumpkin is high in vitamins and minerals while being relatively low in calories. It is a great source of beta-carotene, which helps the body converts into Vitamin A. It is also high in vitamin C, E, iron and folate, which can help boost your immune system. Its high antioxidant content may reduce the risk of chronic disease too.Bean curd (tofu) is high in protein, amino acids and a wide variety of vitamins and minerals.
The Golden Pumpkin Broth with Seafood and Chicken Bean curd recipe金汤海皇鸡茸白玉 below is prepared by Ng Sen Tio, Head Chef of Yàn Cantonese Restaurant.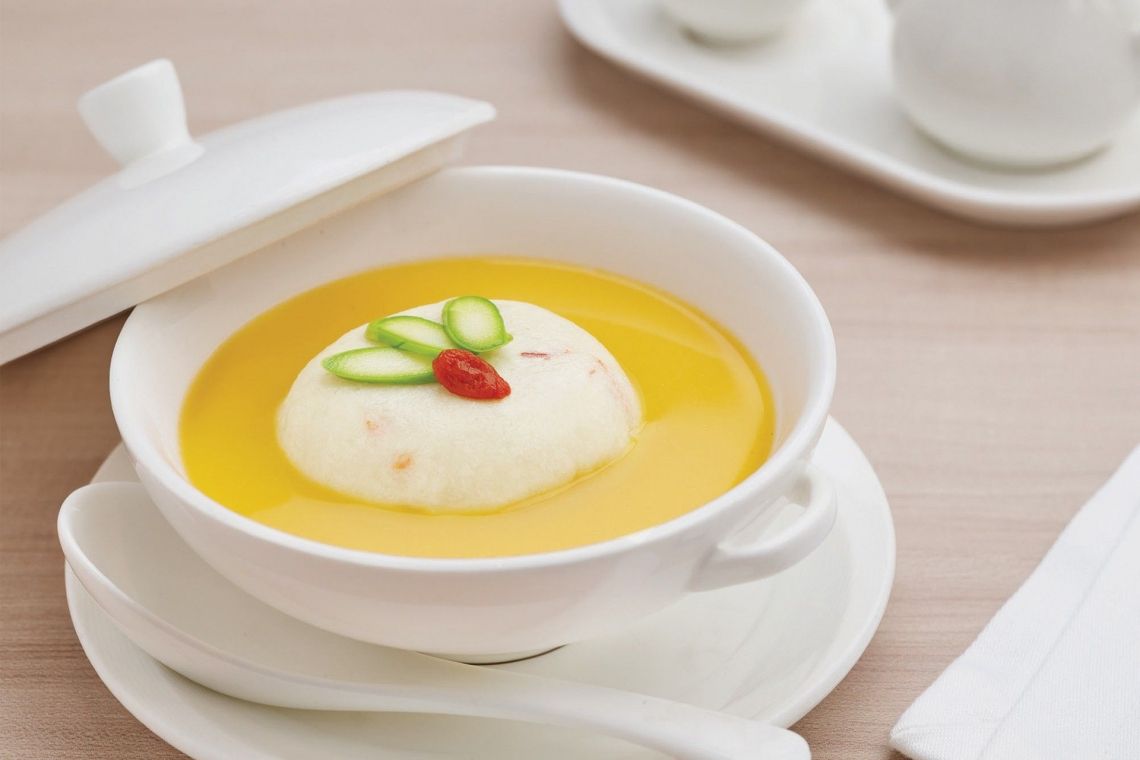 Ingredients:


250g Pork
150g Chicken (with bones)
2kg Water
100g Pumpkin
50g Tofu
10g Scallop (minced)
10g Prawn (minced)
20g Chicken (minced)
Garnish Goji Berries (wash and set aside)
Garnish Asparagus (2 thin slices, soak in saltwater and set aside)
Seasoning:
To taste Chicken powder
To taste Sesame Oil
To taste Salt
To taste Sugar
To taste Pepper
Method:
Prepare the broth: Wash the pork and chicken (with bones). Add water into the pot and boil. Once boiling, add the pork and chicken and continue to boil under low heat. Set aside 200 ml of broth and freeze the remaining broth to use next time.
Peel the pumpkin and cut into small chunks. Steam for 20 minutes until soft, mash into purée and set aside.
Prepare the Seafood and Chicken Paste Bean curd. Add bean curd, minced chicken, scallop and prawn into a bowl. Use hands to mix them evenly, then, add in all the seasoning and mix well.
Prepare a cling wrap. Using a spoon, scoop an appropriate amount of the bean curd mixture and put it on the cling wrap. Rub the bean curd mixture into the size of a golf ball and tie it tightly with the cling wrap.
Steam the bean curd mixture for 15 minutes, until cooked. Remove from the cling wrap and put it in the centre of a bowl. Set aside.
Boil the broth under high heat and add the pumpkin purée. Evenly stir it to make a golden broth.
Pour the golden broth onto the bean curd. Add some goji berries and two slices of asparagus on top and the dish is ready to be served.