Singapore has the best drinking scenes in Asia. With 11 Singapore bars made it to Asia's 50 Best Bars 2019, it is indeed an exciting city where all cocktail aficionados should visit. Other than those listed on Asia's 50 Best list, here are some of the hidden bars and speakeasies only for those in the know.
Here we present our Singapore hidden bar list. Have fun hopping around the Lion City's secret cocktail bars, or you may now call them your private oasis, where you can chill, unwind and disappear for the night!
# 1 Smoke & Mirrors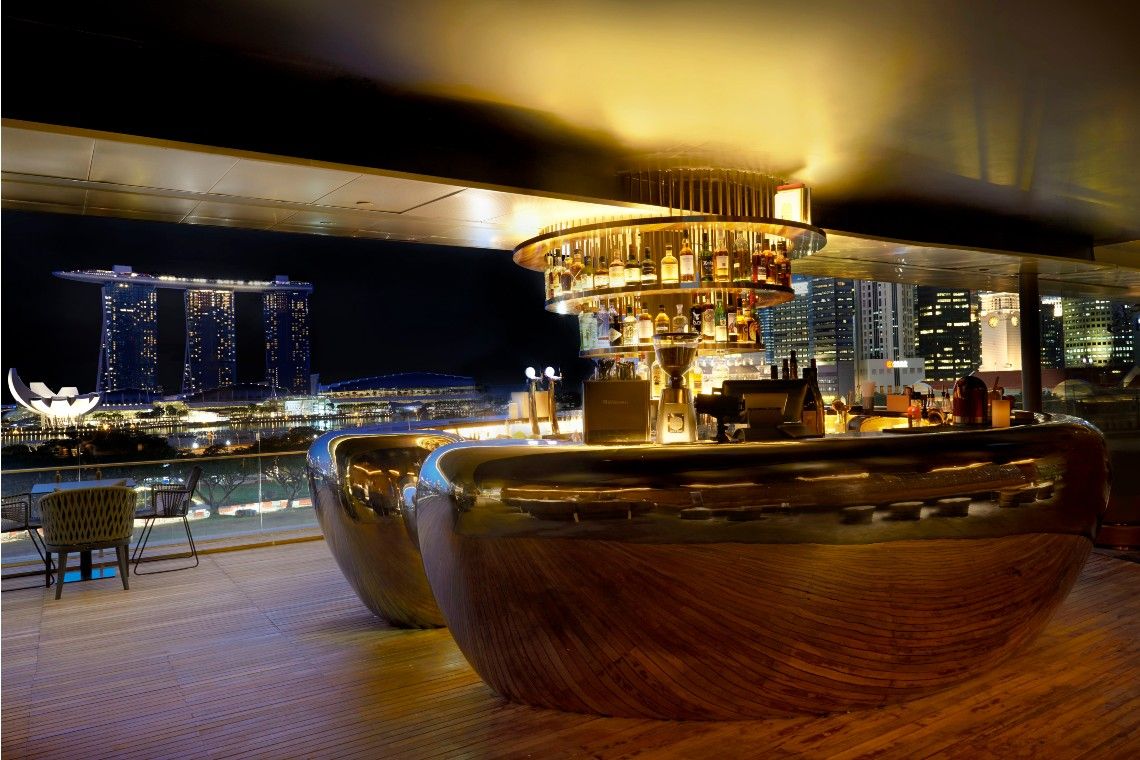 Perched on the rooftop of the National Gallery Singapore, Smoke & Mirrors is known for its spectacular panoramic views of Singapore's iconic skyline and creative cocktail programme helmed by Head Bartender Jorge A. Conde. You can admire the beauty of Marina Bay Sands, Esplanade Theatre and the dazzling light up from the buildings at the Central Business District right at the bar's open deck.
The destination rooftop bar sets out to elevate the cocktail experience by exploring classic drinks with experimental new twists. Guests can expect innovative menu concepts driven by modern techniques and unique flavour combinations to artfully challenge perceptions.
Our pick: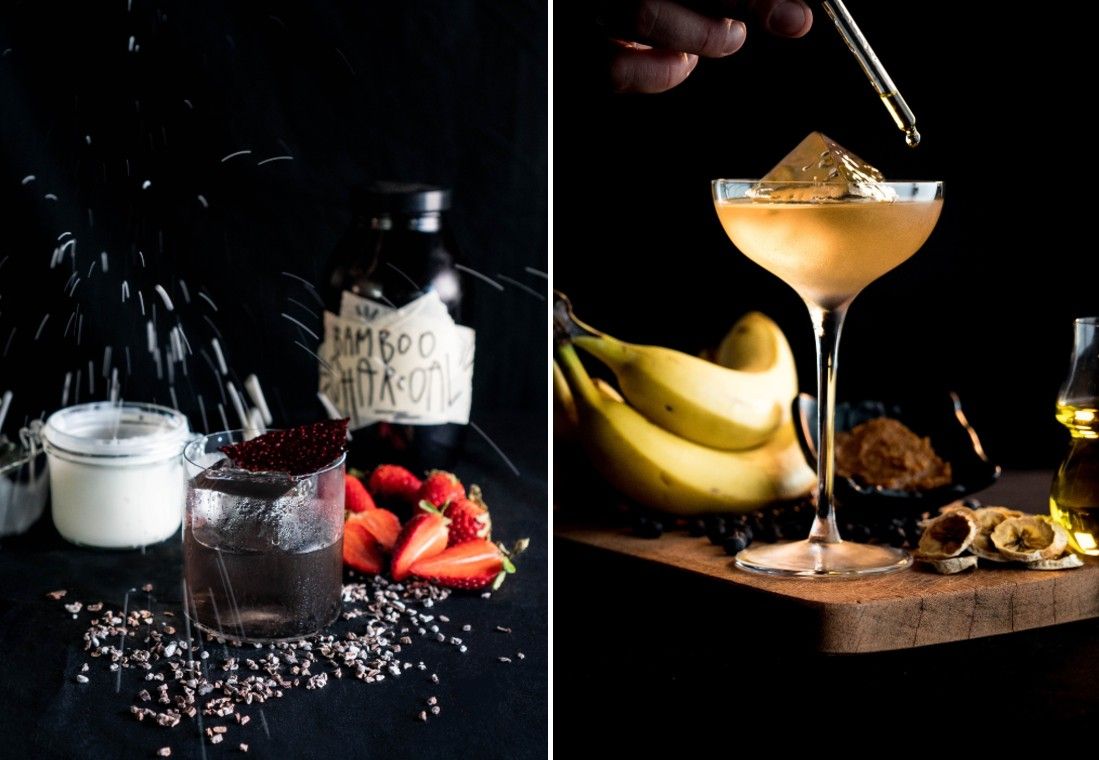 #4
The complex drink is black in colour, with layers of flavours from the blend of agave cooked and redistilled with strawberry, cacao-infused spirit, pure milk vodka, bamboo charcoal and a salt & pepper finish.
Peel & See
Moving in a more culinary direction, the banana-infused Peel & See is inspired by Andy Warhol's iconic piece for The Velvet Underground. The unlikely combination of banana, miso and olive oil are integrated into the gin base through a multi-step process of sous vide, dehydration and fat-washing.
Smoke & Mirrors | #06-01 National Gallery Singapore, 1 St. Andrew's Road Singapore 178957. www.smokeandmirrors.com.sg
#2 Mitzo Restaurant Bar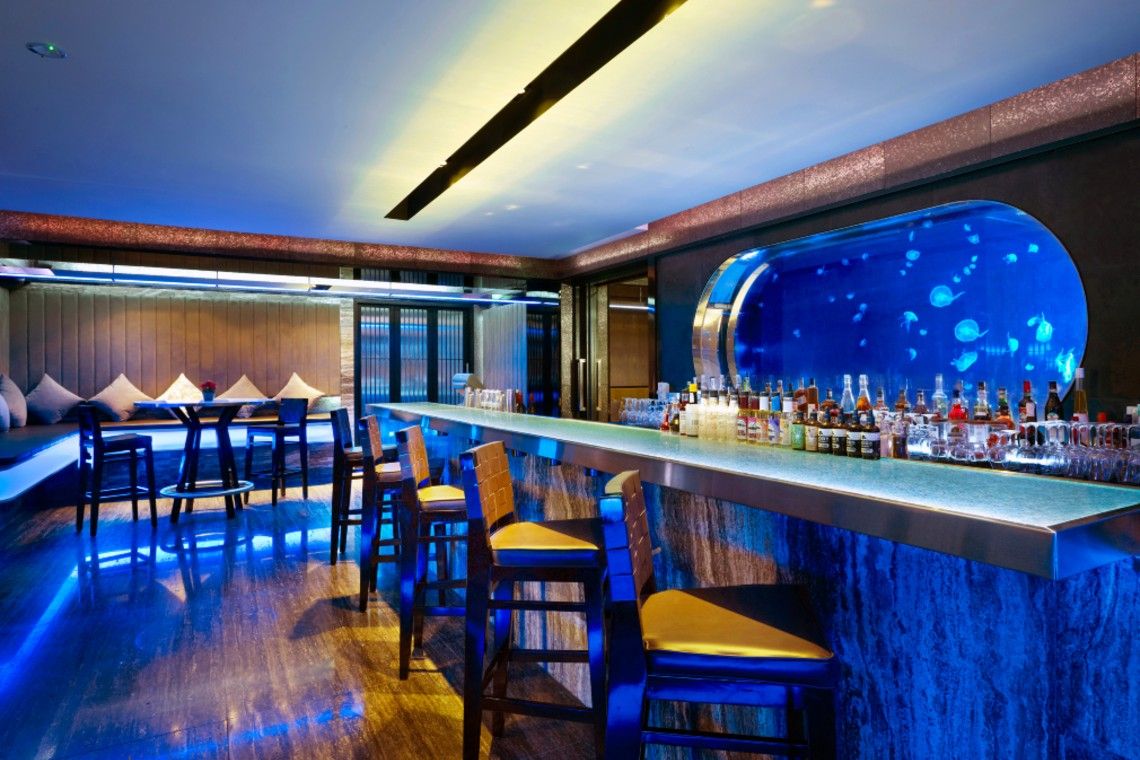 Hidden inside Mitzo, one of the most celebrated Mod-Chinese Restaurants along Orchard Road, this stunning cocktail atelier is still quite under the radar. The restaurant bar breaks the mould of Chinese dining by combining a contemporary take on Cantonese cuisine with an artisanal cocktail programme. Combining Chinese element in their signature cocktail, Mitzo features a selection of drinks paying homage to local, as well as Chinese traditions. We absolutely love the view at the bar, with a 3-metre-long jellyfish tank as a backdrop, and illumination from the glittering bar top, the space is truly a vision to behold.
Our Pick: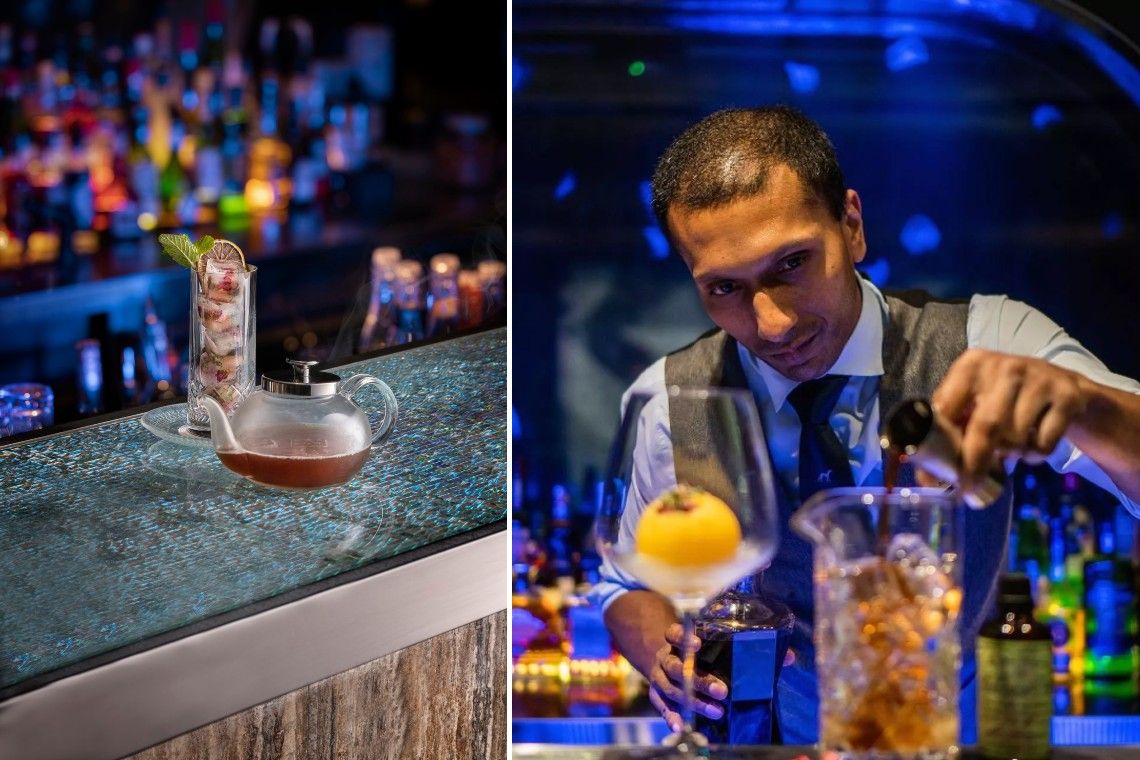 Monkey Affair
Ingredients of Chinese roots such as preserved mandarin orange peel, goji berry syrup and herbal soda are added to this Monkey Shoulder Whisky based drink. It is a playful, fruity and refreshing drink suitable for Singapore's weather.
She So Fine
The quintessential mojito underwent a makeover with osmanthus flower-infused Sailor Jerry Rum, Shiso liqueur, plum bitters, lime juice, sugar syrup and topped with ginger ale. This poise and sophisticated drink is a popular choice among Mitzo's drinks menu.
Mitzo|270 Orchard Rd, Grand Park Orchard, Level 4, Singapore 238857.
mitzo.sg/
#3 Bar Canary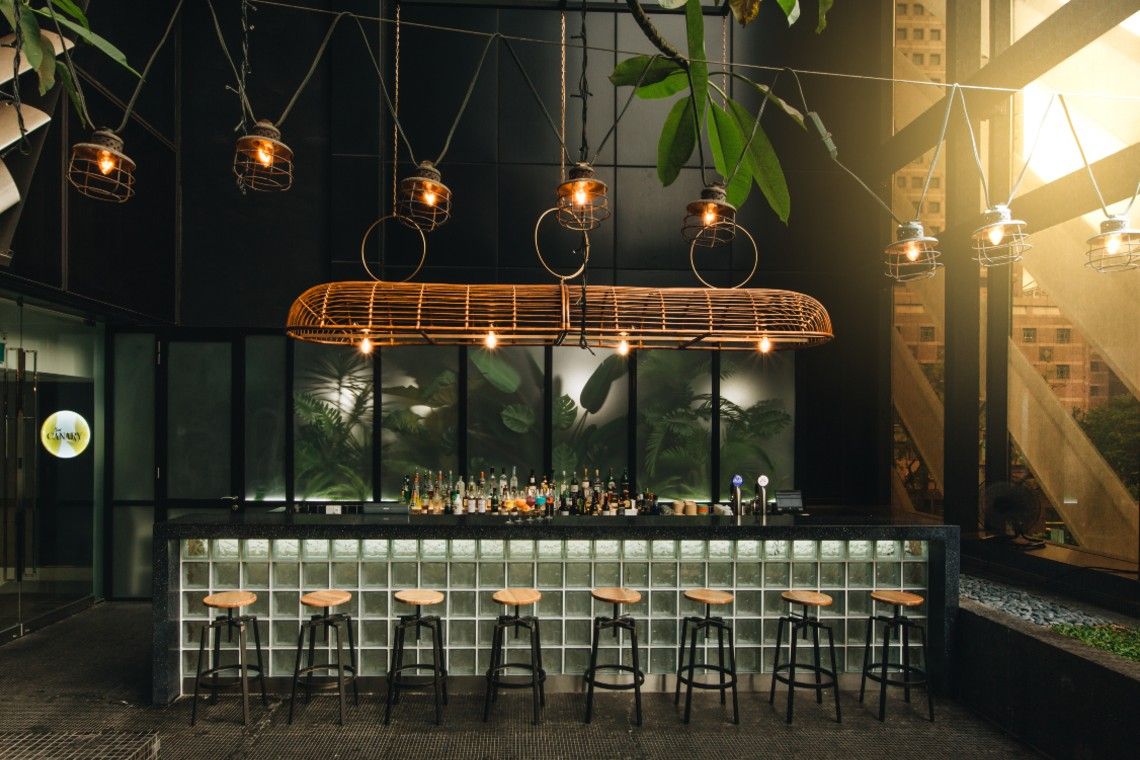 Set in a tropical oasis in the heart of Singapore's shopping mecca, Orchard Road, the Bar Canary is an idyllic escape among the city's skyscrapers, for guests to lounge under the starry lights, a refuge away from the fast-paced city life.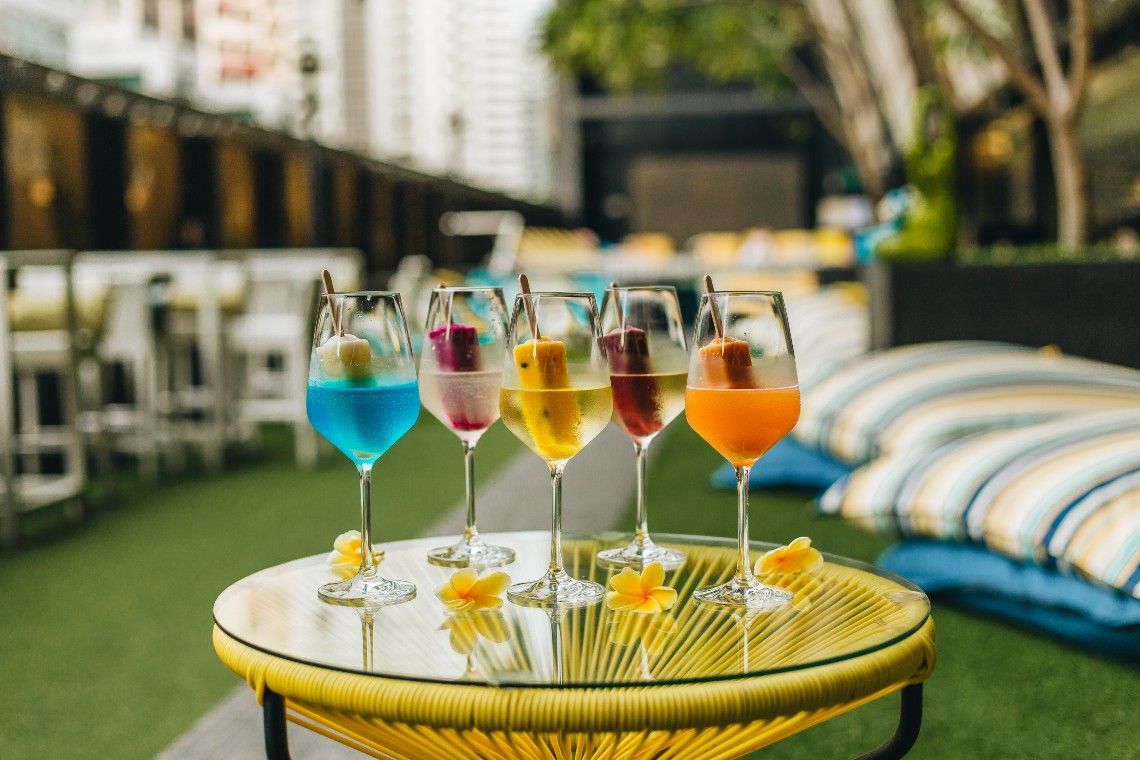 Inspired by the tropical island we are located in, the team at Bar Canary created a delightful selection of 6 Boozy Pops - with popsicle flavours made from fresh ingredients dunked into unique alcoholic concoctions.
Bar Canary| 270 Orchard Rd, Grand Park Orchard, Level 4, Singapore 238857.
www.parkhotelgroup.com/en/orchard/bar-canary
#4 Aqua Luna
Aqua Luna is a rooftop bar sits beside the azure blue waters of Park Hotel Alexandra's 25-meter infinity pool. Featuring a spectacular ceiling-to-floor glass enclave, this gorgeous oasis affords travellers a 180-degree view of its lush greenery surroundings. By day, take in the striking view of the treetop canopy of The Southern Ridges in all its fresh, green glory. By twilight, the space is transformed into an eye-catching watering hole where the stage is set daily for the viewing of the magnificent golden-hued sunsets. As the sky darkens, the scene changes once again with the moon and sparkling lights of the heritage Queenstown precinct morphing into the backdrop for a relaxing evening.
Our Pick: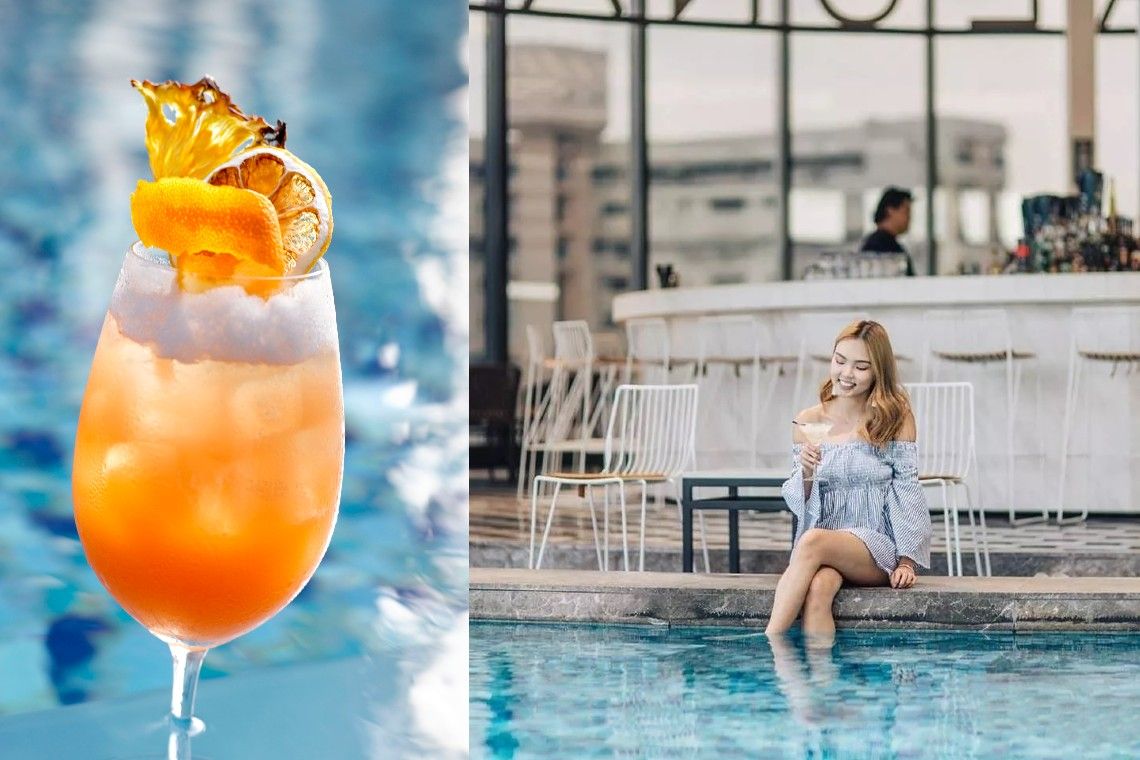 Alexandra Sunset
The bartender's rendition of the glamorous sunset at the rooftop of Park Hotel Alexandra, the Alexandra Sunset features Grand Marnier infused with torched rosemary, shaken with cherry liqueur, white rum, fresh citrus and pineapple juices, topped with a splash of bitters and dark rum. лLocation: Aqua Luna, Park Hotel Alexandra
Hot Melons
Watermelon is muddled with chilli padi for a tingling touch of heat, then shaken with rum and chocolate bitters before being strained over a frozen soursop sorbet. лLocation: Aqua Luna, Park Hotel Alexandra
Aqua Luna | Address: Level 7, Park Hotel Alexandra, 323 Alexandra Road, Singapore
www.parkhotelgroup.com/en/alexandra/aqua-luna
#5 Bar @ Blue Jasmine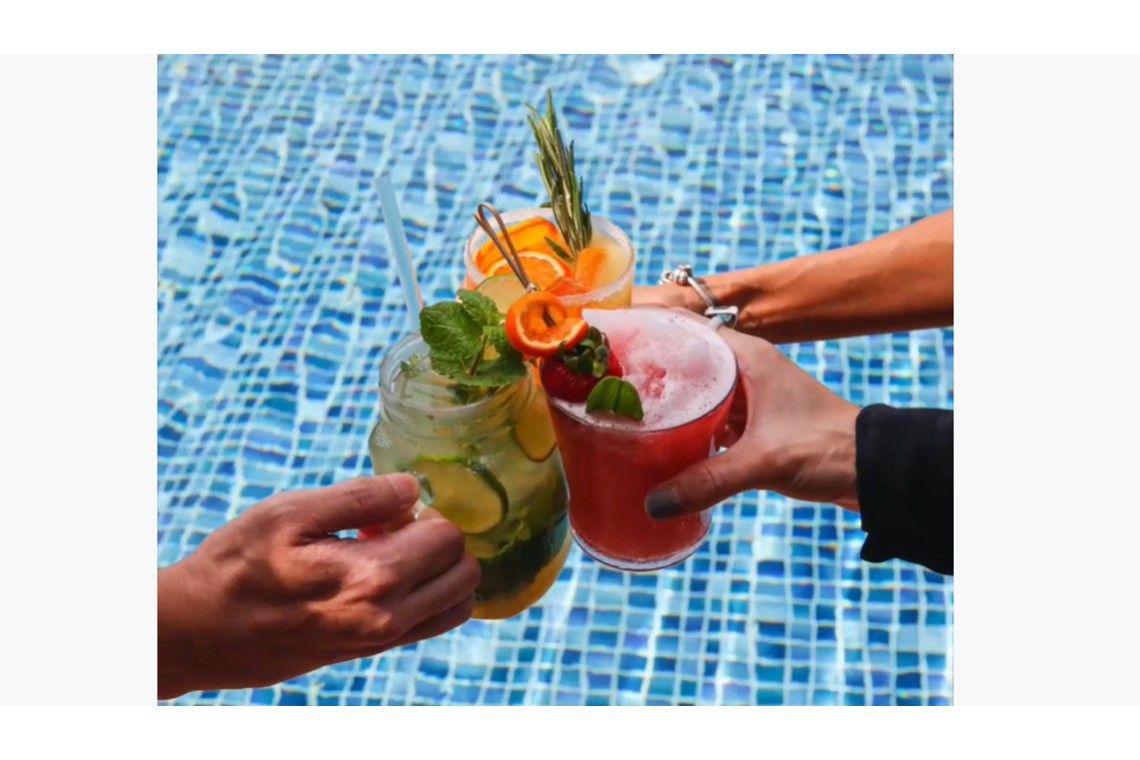 A new kid on the block, the new bar at Thai restaurant Blue Jasmine offers some interesting concoction with Asian elements. The new bar menu features simple yet delectable cocktails, from Margarita, Daiquiris to unique Crystal Colada. Your Asia tour shouldn't be lacking some breezy tropical cocktails by the pool!
Our Pick: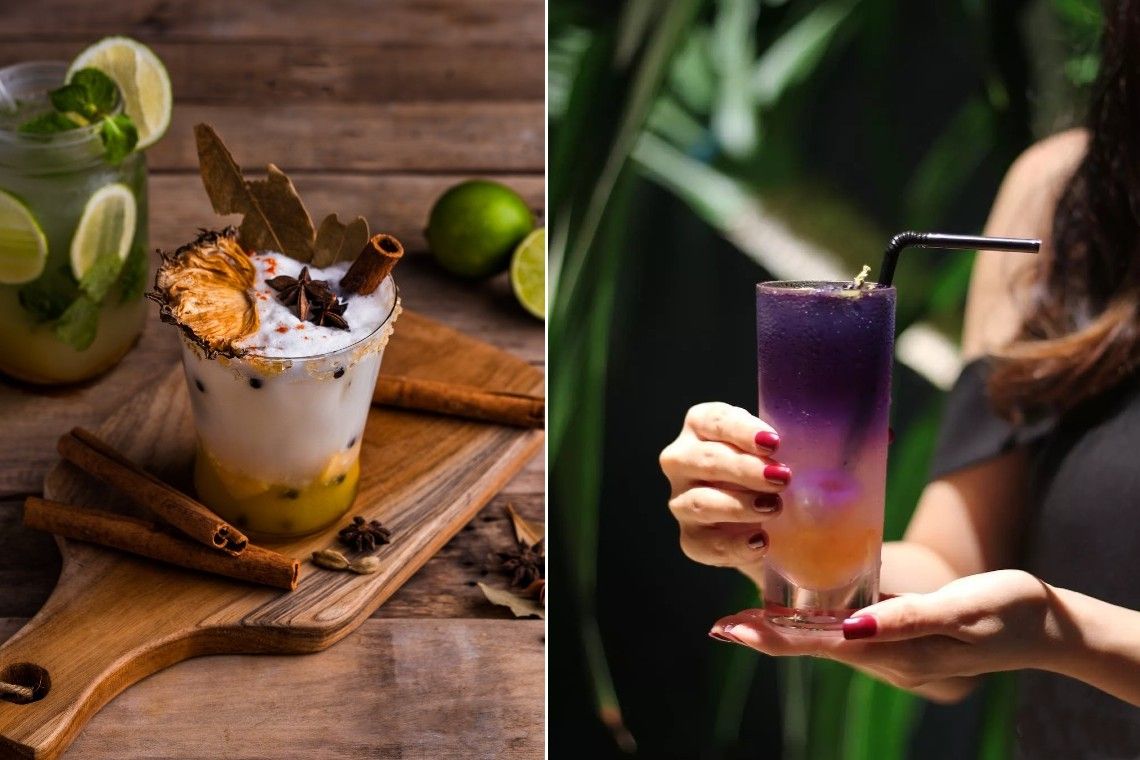 Crystal Colada
Try out the bar's extra-refreshing take of Piña Colada with rum, pineapple juice, coconut water and lime juice, a great way to cool off the heat!
Blue Jasmine
One of the bar's prettiest mocktail made of butterfly pea flower, a native plant in South East Asia which makes your drink blue-purple without adding any food colouring!
Blue Jasmine | 10 Farrer Park Station Rd, Level 5 Park Hotel Farrer Park, Singapore 217564
www.instagram.com/bluejasmine.sg