Hokkaido is well known for its high-quality dairy products. The luxuriously rich and creamy texture in their dairy products is the reason why it is regarded as the best in Japan. Hokkaido's dairy products are generally more expensive compared to those from other prefectures as its freshness and quality are unequivocal.
So, if you are not lactose intolerant, Hokkaido is a great place to sample Japan's best dairy products, especially their rich and mouth-watering ice-creams.
With so many brands and different ice-cream stores around Hokkaido and Otaru, which are the ones worth a try? We have our local staff from Grand Park Otaru to share us their Top 3 Ice-Cream Places in Otaru.
#1 Venetian Cafeteria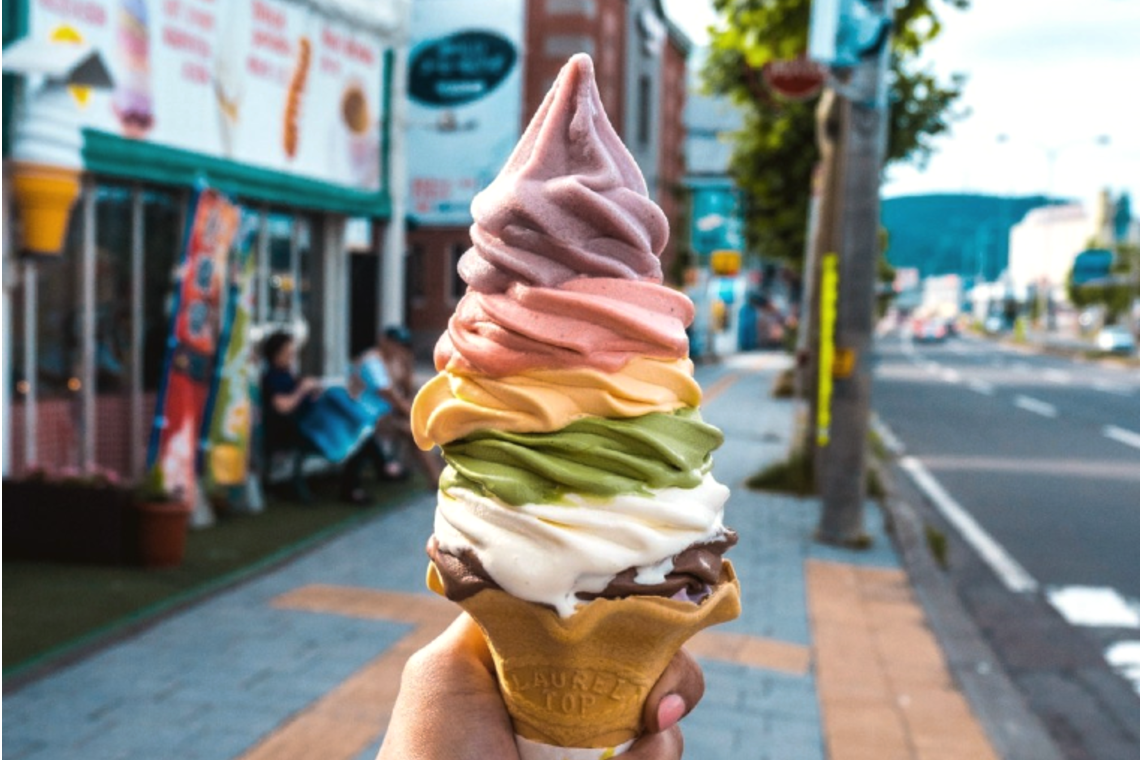 This sweet treat made with Hokkaido farm fresh milk and all-natural ingredients has certainly become the icon of Otaru. The crowd-pleaser is a 7-layer Rainbow Soft Serve comes with 7 different flavours stacked together, starting at the top with grape, Yubari melon, green tea, lavender, Hokkaido milk, strawberry and chocolate. We love the idea of sampling a little bit of everything here!
5-27 Sakaimachi, Otaru 047-0027, Hokkaido, Tel. 81-134-33-1993
堺町5-27 小樽市, 北海道 〒047-0027 Japan '
#2 Amato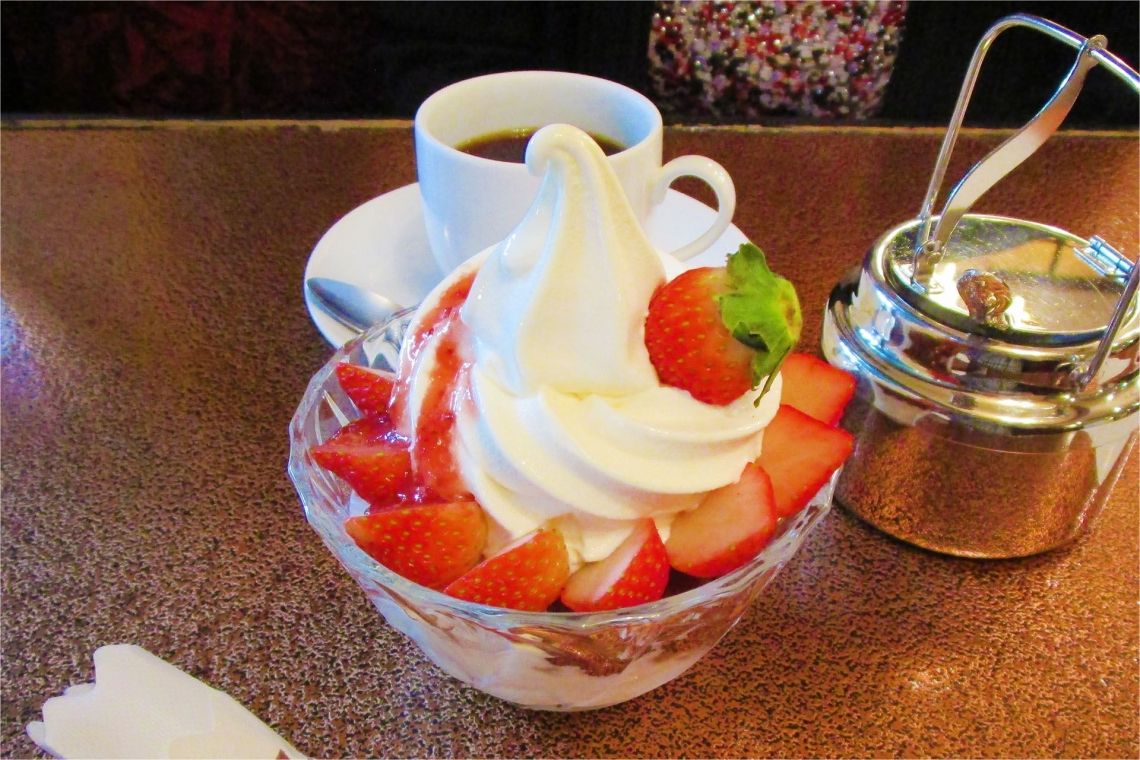 Fancy something a little bit more retro? Head to the 2nd floor of this dessert founded in 1929! Located right beside the Otaru Canal, the headquarter of Amato is adorned in everything representing the romantic Showa era – burgundy velvet sofa, chandelier and a menu boast a variety of parfaits. "Cream Zenzai" is one of the most popular items in the store. The dessert comes with homemade red bean paste and Hokkaido soft-serve ice-cream that is rich and smooth.
2-16-3 Inaho Otaru-City Hokkaido; (close occasionally on Thursdays), Tel. 81-134-22-3942
北海道小樽市稲穂2丁目16-3
#3 Kita No Aisu Ya San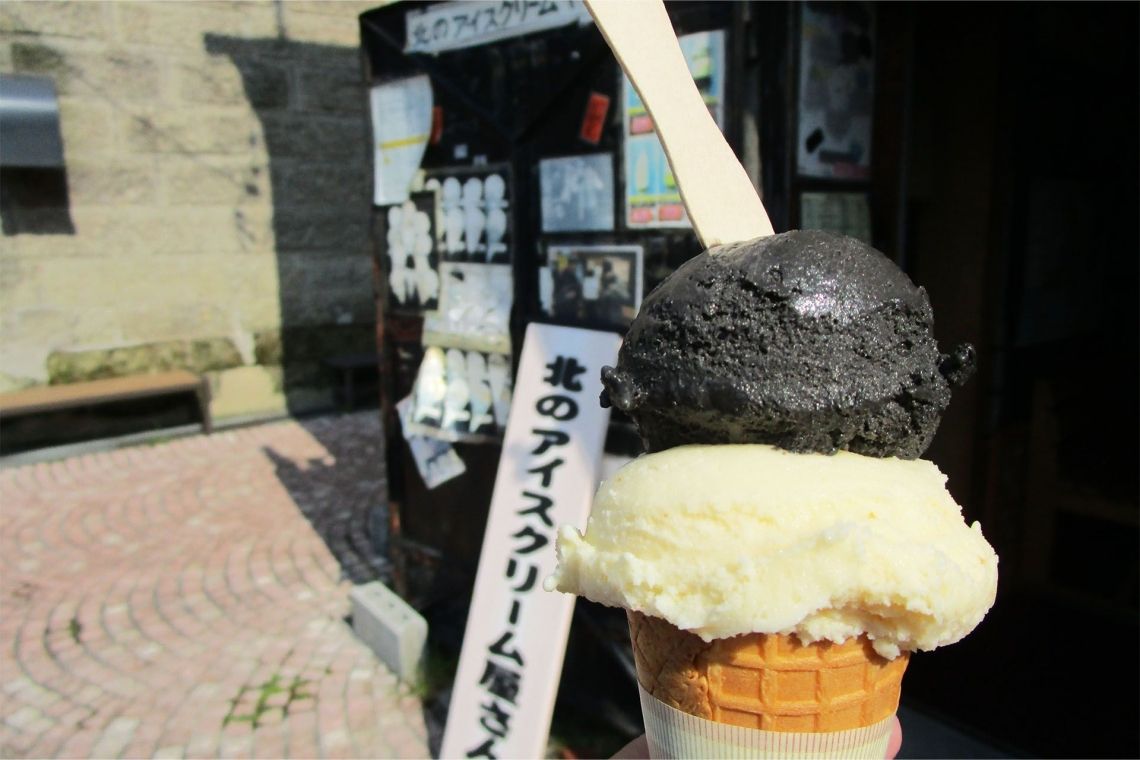 Hidden in between the major streets off the Otaru Canal, lies a small little ice cream store called "Kita No Aisu Ya San". You may find a plethora of interesting flavours that are going to blow your ice cream-lovin' mind. How about a scoop of sea urchin flavoured ice cream? Or maybe another scope of fish collagen, natto or potato & butter flavour? We love the sweetness and creaminess from the Squid Ink and Sea Urchin ice cream!
1-2-18 Ironai, Otaru-City, Hokkaido; Tel. 81-134-23-8983
色内1丁目, 2−18
PHOTO CREDIT:

Ice cream in a cone. |Image by Ashkay Nanavati
Rainbow Soft-serve in Otaru. | Image by Travelling Petite Girl.